Risk Forward: Embrace the Unknown and Unlock Your Hidden Genius (Hardcover)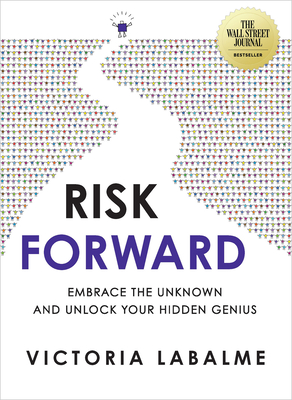 $24.99

On Our Shelves Now. Click on the title to see details.
Description
---
"Some people in life know exactly what they want to achieve. This is a book for the rest of us." - Victoria Labalme

if you're trying to figure out your next steps at work or in life...

if you wish you had the courage to move in a new direction...

if you sense there's something more, waiting to be discovered...

Risk Forward will help you find your way.

In this brief, full color, whimsical book "experience," Hall of Fame speaker, leading consultant, and Wall Street Journal best-selling author Victoria Labalme shares a series of principles from the arts that are practical, reassuring, and radically freeing.

"Sage advice-and brisk inspiration-for anyone contemplating the daunting prospect of a new project or change of direction."
- Pamela Liebman, President & CEO, The Corcoran Group

"RISK FORWARD is a mosaic that will change the way you view your life forever."
- Roberta Matuson, FORBES.com

"If Picasso and Apple produced a book, this would be it!!!"
- Vince Poscente, New York Times best-selling author & Olympian

Through these uniquely designed and thought-provoking pages, you'll learn:

   • 4 Questions to help you discover your next best step
   • How to make a decision when you have a variety of options
   • 3 key filters to evaluate input and advice
   • Permission and Ideas to express your whole self at work and in life
   • The #1 way to identify what really matters
   • What holds you back
About the Author
---
Wall Street Journal best-selling author and Hall of Fame Speaker Victoria Labalme is known for her Keynote Performances and workshops in virtual environments and at events around the world. Founder of Risk Forward® and Rock The Room®. Victoria is a trusted consultant to C-suite executives at global brands, entrepreneurs, and elite individuals. Her proprietary systems and strategies have been embraced by over 700 organizations, and her creative projects have received critical acclaim from The Hollywood Reporter, The New York Times, Variety, BBC, CBS, Los Angeles Times, and Good Morning America.
Praise For…
---
Wall Street Journal bestseller

"RISK FORWARD is a mosaic that will change the way you view your life forever."
- Roberta Matuson, FORBES.com

"This book should be the official guidebook for your career."
- Geoff Cottrill, former CMO at Converse and Coca-Cola

"RISK FORWARD shows us how to defy the noise and think in a new way. I love this book. We need this book."
- Frank Oz, Yoda performer, Muppets originator/performer, feature film director

"RISK FORWARD breaks the mold . . . impossible to put down."
- Ken Blanchard, coauthor of The New One Minute Manager®

"This is the type of book you'll want to have on your bookshelf or by your bedside."
- Melissa Houston, FORBES.com

"RISK FORWARD offers sage advice--and brisk inspiration--for anyone contemplating the daunting prospect of a new project or change of direction."
- Pamela Liebman, President & CEO, The Corcoran Group

"If Picasso and Apple produced a book, this would be it!!!"
- Vince Poscente, New York Times best-selling author and Olympian

"I knew RISK FORWARD was terrific when I found myself, by page 10, taking notes and applying them to my own current creative chaos. RISK FORWARD is the indispensable guide for all of us when we freak out at the inception of a new project. Five stars!"
- Steven Pressfield, New York Times best-selling author of The War of Art

"Exquisite, whimsical and thought provoking. Beautifully written, filled with artistry and easy to read, RISK FORWARD had me asking myself profound questions."
- Jeff Walker, New York Times best-selling author and founder of Product Launch Formula

"Risk Forward now has an exalted place on my bookshelf next to Anne Lamott's Bird by Bird."
- Alan Zweibel, original Saturday Night Live writer

"An insightful, witty, and deeply moving mosaic."
- Matt Fagerholm, RogerEbert.com

"Yes, yes, yes, yes, yes, yes, yes, yes, yes. This is a compassionate book, a kind book, a helpful book."
- Patricia Ryan Madson, professor emerita, Stanford University

"These pages brought literal tears to my eyes for their truth."
- Hillary Z. Bradley, artist/painter

"An essential, practical manual that helps one meet any moment. 3x this week alone I have applied these principles with my team."
- Journey Gunderson, Executive Director, National Comedy Center