Cultured Food in a Jar: 100+ Probiotic Recipes to Inspire and Change Your Life (Paperback)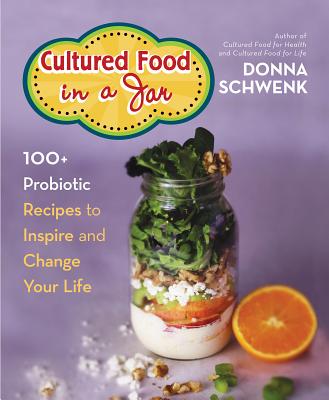 $19.99
Email or call for price.
Description
---
In her third cookbook, creator and founder of the Cultured Food Life blog and author of Cultured Food for Life and Cultured Food for Health Donna Schwenk offers over 100 probiotic recipes for the on-the-go lifestyle. These cultured food recipes are easy-to-make and all portable in jars. Schwenk covers everything from the basics like making your own kefir, kombucha, and nondairy milks, to snacks and beverages, to filling, savory meals. Complete with full-color photos and clear, thorough instructions, Cultured Food in a Jar offers an accessible, mouthwatering approach to probiotic eating and gut health.
About the Author
---
Donna Schwenk is the author of Cultured Food for Life and Cultured Food for Health and the founder of the blog Cultured Food for Life. For a decade, she was the Kansas City Chapter leader for the Weston Price Foundation, a worldwide organization focused on restoring nutrient-dense food to the human diet through education, research, and activism. Donna continues to teach classes opening people's eyes to the power of cultured foods. Her work has been featured around the word, including on two PBS specials, in Britain's Daily Mail, and in Energy Times. You can visit her online at www.culturedfoodlife.com.
Praise For…
---
"Donna's deep commitment as a compassionate guide for people on their own unique healing path is inspiring. With her charming wit and innate ability to simplify the processes of fermentation, she has me thinking she's right there with me in the kitchen, cheering me along. and encouraging all my good bacteria to flourish!"
—Brenda Watson, CNC, New York Times best-selling author of The Fiber35 Diet

"More and more studies are showing that a healthy gut is the key to permanent, sustainable weight loss. And Donna Schwenk's book Cultured Food in a Jar is the 'recipe' for a healthy gut. Enjoy these simple, delicious superfoods and the health and vitality that goes along with them."
—Jon Gabriel, international best-selling author of The Gabriel Method and Visualization for Weight Loss

"Cultured food heals the brain and the body. Donna's recipes will help you easily incorporate them into your daily diet."
—Dr. Mike Dow, New York Times best-selling author of The Brian Fog Fix

"Donna Schwenk has created a surefire way to spike flavor in every meal while raising your digestive health. The creative ways she teaches you to use fermentation will provide a fun and delicious culinary adventure."
—Julie Daniluk, R.H.N., TV host, nutritionist, and best-selling author of The Hot Detox Plan

"Cultured Food in a Jar is another winning combination of practical recipes and detailed information, perfect for first-timers and experienced fermenting enthusiasts alike. Donna's passion, combined with her easy-to-follow instructions, are sure to help folks enjoy the benefits and convenience of fermented foods—in a jar!"
—Simon Gorman, founder of Wise Choice Market

"As a dentist, I spend most of my days up to my wrists in the oral microbiome. I make sure to recommend that my patients eat plenty of fermented food, but the problem is they never know where to start. Cultured Food in a Jar is a journey through the intricate world of fermentation. Donna has created the perfect background, rationale, and easily actionable program to help people re-establish their relationship with probiotic microbes."
—Dr. Steven Lin, dentist, writer, and speaker