Women, Sex, Power, And Pleasure: Getting the Life (and Sex) You Want (Paperback)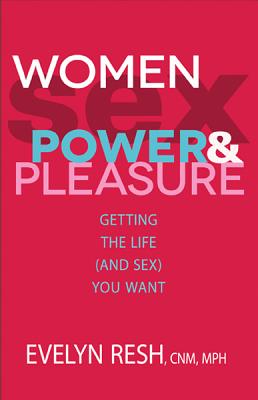 $15.95

If not in stock, we can Special Order from the publisher
Description
---
     Women are amazing. We climb to the highest levels in the business world, juggle our time between friends and family, and volunteer a helping hand when asked—all without seeming to break a sweat. But frequently what hides beneath that ultra-competent exterior is someone screaming out for change.
     In Women, Sex, Power, and Pleasure, sexuality counselor and nurse-midwife Evelyn Resh focuses on helping you create the life and sex life you always hoped for by looking at your relationship to pleasure in general. With a refreshing and disarming sense of humor, she explores the importance of all types of pleasures—from a simple coffee break to great sex—and shows that without having these experiences on a regular basis, life feels empty and overall health suffers.
     In her quest to explain why so many women's lives are barren of such pleasure, Resh lays out six attributes—self-esteem, physical health, spiritual satisfaction, creativity, resilience, and compassion—that are essential to accessing and prioritizing pleasure. When these six attributes are strong and balanced, women feel powerful and deserving of pleasure in all its forms. However, when even one is weak, they turn away from pleasure—especially sex.
     With chapters structured around some of the most common reasons she's heard for avoiding sex in her practice—I Feel Nothing, Menopause Is Killing Me, I'm Too Busy!, I'm Too Fat to Have Sex—she sheds light on the imbalances that result in lives devoid of sexual desire and activity. With practical guidance, self-assessment questions, and stories from her practice and personal life, Resh explains how you can regain your emotional wellness and live a powerful life that includes a steady relationship with pleasure and sexual satisfaction.
About the Author
---
Evelyn Resh, MPH, CNM, is a certified sexuality counselor with The American Association of Sexuality Educators, Counselors, and Therapists. She is also a certified nurse-midwife and has been in practice for more than 20 years. Resh holds a Master of Public Health degree and undergraduate degrees in nursing, psychology, and medical anthropology. She draws from her experience as a midwife and sexuality counselor in her integrative approach to women's health. Resh lectures frequently across the country to professional and lay audiences on the topics of women's health and sexual satisfaction. She is especially known for her warm, lively, and good-humored approach to her subject matter and her ability to make others feel comfortable with hard-to-discuss topics.
Website: www.evelynresh.com
Praise For…
---
"If you've lost your desire, Resh will help you find your way back to sexy! Empathetic and informative, Women, Sex, Power & Pleasure smashes through common barriers to
sexual satisfaction with gusto and passion!"
— Ian Kerner, New York Times best-selling author of She Comes First
"If Erma Bombeck had been a wise sex counselor, this is the book she would have written. A happy combination of clinical insights and trenchant humor makes Evelyn Resh's book delightful and essential reading for anyone, anywhere, who has ever wondered about women, sex, power, or pleasure—from teenage to menopause and beyond."
— Gina Ogden, Ph.D., LMFT, author of The Return of Desire, The Heart & Soul of Sex, and Women Who Love Sex
"Evelyn Resh teaches us how to create emotional wellness by giving us permission to keep pleasure and sex in the forefront of our minds. We need more books that advocate putting pleasure first. Brava!"
— Barbara Carrellas, author of Ecstasy is Necessary and Urban Tantra
"As a sex therapist, writer of books for women about sex, and a teacher of sex therapy, I highly recommend Women, Sex, Power & Pleasure. If you're not happy with your sex life and frustrated with your own libido, this book may be just the jump-start you need for a new direction. Building on what you already know about sex, this book asks you to dive deeper into what you might not have known about you. Evelyn Resh's book is like a conversation with a good friend—honest, intimate and to the point. For women who want pleasure, want to take charge of their sexual lives, and want to take hold of their own capacity for change, Women, Sex, Power & Pleasure is a wonderful book."
— Sallie Foley, co-author of Sex Matters for Women
"Women, Sex, Power & Pleasure is a book about all this and more. It brings up-to-date information about sex and pleasure in a culture that still doesn't talk enough about these needs. Women deserve accurate and contemporary information to guide them to a healthy sexuality, and this book does just that."
— Joe Kort, Ph.D., director of the Center for Relationship and Sexual Health
"A very thoughtful look at a complex and often difficult subject."
—
Paul Joannides, Psy.D.
, author of
Guide To Getting It On