The Little Red Book of Wisdom: Updated and Expanded Edition (Paperback)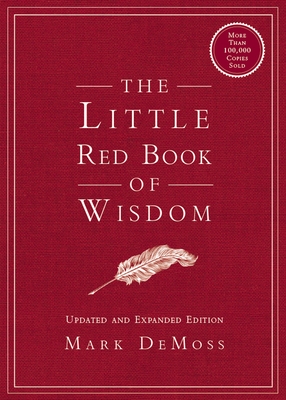 $16.99

NOT on our shelves - Usually Ships in 1-5 Days
Description
---
The search for wisdom invariably leads us back to the places we've overlooked. If you're seeking simplicity in a complicated world, Mark DeMoss' insights will illuminate your path to a wiser and more deliberate way of living. Exploring the notions of integrity, humility, and self-restraint, DeMoss demonstrates what is possible when we value listening and thinking over talking and doing.
Now updated and expanded with two additional chapters, the bestselling The Little Red Book of Wisdom is an easy-to-read collection of inspirational nuggets of wisdom that will uplift and encourage you from the very first page. With more than 100,000 copies sold, this amazing little book offers 25 chapters of tried-and-true advice and tips to give you a new perspective that will enrich your life at home, in your relationships, and throughout your career. For example, you'll:
Learn why a postage stamp is worth much more than its face value, and what time of day wisdom flourishes.
Find out the wisest decision anyone can make, and the value of eating lunch alone.
Rethink the advantages of technology, and learn how to safeguard yourself against any shadow of deathbed regret.
The Little Red Book of Wisdom makes a great gift for graduation, birthdays, and the holidays.
Step out of the incessant business of your daily life, and spend a few moments learning timeless and foolproof truths that you can apply right away. Wisdom is not just for past generations; it calls to you today. You only need to respond.