Search for Books
ABA Mobile Menu
War Trash (Vintage International) (Paperback)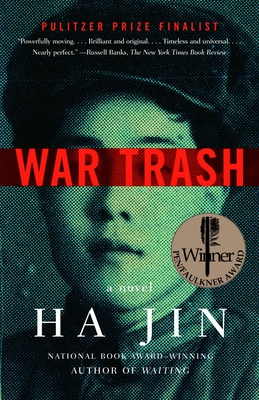 $16.95
NOT on our shelves - Usually Ships in 1-5 Days
Description
---
Ha Jin's masterful new novel casts a searchlight into a forgotten corner of modern history, the experience of Chinese soldiers held in U.S. POW camps during the Korean War. In 1951 Yu Yuan, a scholarly and self-effacing clerical officer in Mao's "volunteer" army, is taken prisoner south of the 38th Parallel. Because he speaks English, he soon becomes an intermediary between his compatriots and their American captors.With Yuan as guide, we are ushered into the secret world behind the barbed wire, a world where kindness alternates with blinding cruelty and one has infinitely more to fear from one's fellow prisoners than from the guards. Vivid in its historical detail, profound in its imaginative empathy, War Trash is Ha Jin's most ambitious book to date.
About the Author
---
Ha Jin left his native China in 1985 to attend Brandeis University. He is the author of the internationally bestselling novel Waiting, which won the PEN/Faulkner Award and the National Book Award, and War Trash, which won the PEN/Faulkner Award for Fiction, and was a Finalist for the Pulitzer Prize and the Kiriyama Pacific Rim Book Prize; the story collections The Bridegroom, which won the Asian American Literary Award, Under the Red Flag, which won the Flannery O'Connor Award for Short Fiction, and Ocean of Words, which won the PEN/Hemingway Award; the novels The Crazed and In the Pond; and three books of poetry. His latest novel, A Free Life is his first novel set in the United States. He lives in the Boston area and is a professor of English at Boston University.

War Trash, The Crazed, The Bridegroom, Waiting, In the Pond, and Ocean of Words are available in paperback from Vintage Books.
Praise For…
---
"Powerfully moving. . . . Brilliant and original. . . . Timeless and universal. . . . Nearly perfect." —Russell Banks, The New York Times Book Review
"A powerful work of the imagination." —The Washington Post
"Startingly seductive.... A work of profound humanism." —Los Angeles Times Book Review
"Haunting. . . . Deeply moving. . . . [Ha Jin] holds our attention like a whisper." —The Christian Science Monitor