Sunday Suppers at Lucques: Seasonal Recipes from Market to Table: A Cookbook (Hardcover)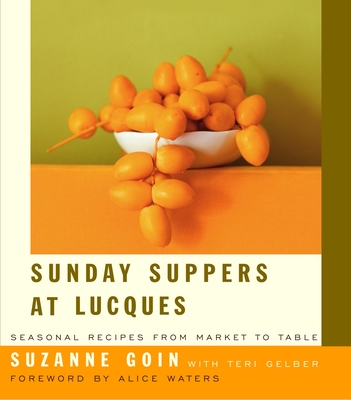 List Price: $40.00
Our Price: $20.00
(Save: $20.00 50%)
Description
---
Few chefs in America have won more acclaim than Suzanne Goin, owner of Lucques restaurant. A chef of impeccable pedigree, she got her start cooking at some of the best restaurants in the world–L'Arpège. Olives, and Chez Panisse, to name a few–places where she acquired top-notch skills to match her already flawless culinary instincts. "A great many cooks have come through the kitchen at Chez Panisse," observes the legendary Alice Waters, "But Suzanne Goin was a stand-out. We all knew immediately that one day she would have a restaurant of her own, and that other cooks would be coming to her for kitchen wisdom and a warm welcome."

And come they have, in droves. Since opening her L.A. restaurant, Lucques, in 1998, Goin's cooking has garnered extraordinary accolades. Lucques is now recognized as one of the best restaurants in the country, and she is widely acknowledged as one of the most talented chefs around. Goin's gospel is her commitment to the freshest ingredients available; her way of combining those ingredients in novel but impeccably appropriate ways continues to awe those who dine at her restaurant.

Her Sunday Supper menus at Lucques–ever changing and always tied to the produce of the season–have drawn raves from all quarters: critics, fellow chefs, and Lucques's devoted clientele. Now, in her long-awaited cookbook, Sunday Suppers at Lucques, Goin offers the general public, for the first time, the menus that have made her famous.

This inspired cookbook contains:

§132 recipes in all, arranged into four-course menus and organized by season. Each recipes contains detailed instructions that distill the creation of these elegant and classy dishes down to easy-to-follow steps. Recipes include: Braised Beef Shortribs with Potato Puree and Horseradish Cream; Cranberry Walnut Clafoutis; Warm Crepes with Lemon Zest and Hazelnut Brown Butter
§75 full-color photographs that illustrate not only the beauty of the food but the graceful plating techniques that Suzanne Goin is known for
§A wealth of information on seasonal produce–everything from reading a ripe squash to making the most of its flavors. She even tells us where to purchase the best fruit, vegetables, and pantry items
§Detailed instruction on standard cooking techniques both simple and involved, from making breadcrumbs to grilling duck
§A foreword by Alice Waters, owner and head chef of Chez Panisse restaurant and mentor to Suzanne Goin (one-time Chez Panisse line cook)

With this book, Goin gives readers a sublime collection of destined-to-be-classic recipes. More than that, however, she offers advice on how home cooks can truly enjoy the process of cooking and make that process their own. One Sunday with Suzanne Goin is guaranteed to change your approach to cooking–not to mention transform your results in the kitchen.
About the Author
---
Suzanne Goin graduated from Brown University. She was named Best Creative Chef by Boston magazine in 1994, one of the Best New Chefs by Food & Wine in 1999, and was nominated for a James Beard Award in 2003, 2004, and 2005. She and her business partner, Caroline Styne, also run the restaurant A.O.C. in Los Angeles, where Goin lives with her husband, David Lentz.

Teri Gelber is a food writer and public-radio producer living in Los Angeles.