Lost in Taiwan (A Graphic Novel) (Paperback)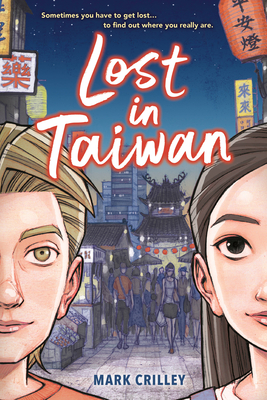 Description
---
In this exciting graphic novel about stepping out of your comfort zone, a traveler finds himself lost in Taiwan with no way of finding his brother—but he soon learns that this forced disconnect is helping him explore and experience the big wide world around him.

THIS WASN'T PAUL'S IDEA.

The last thing he's interested in is exploring new countries or experiencing anything that might be described as "cultural enrichment." But like it or not, he's stuck with his brother, Theo, for two weeks in Taiwan, a place that—while fascinating to Theo—holds no interest to Paul at all.

While on a short trip to a local electronics store, Paul becomes hopelessly lost in Taiwan's twisting, narrow streets, and he has no choice but to explore this new environment in his quest to find his way back to Theo's apartment.

In an unfamiliar place with no friends—and no GPS!—there's no telling what adventures he could happen upon. And who knows? Maybe it turns out he has friends in Taiwan, after all.

 
About the Author
---
Mark Crilley is the author and illustrator of more than forty books, including several acclaimed graphic novels, for which he has received fourteen Eisner Award nominations. His work has been featured in USA Today, Entertainment Weekly, and on CNN Headline News. His popular YouTube videos have been viewed more than 400 million times. He lives in Michigan with his wife, Miki, and children, Matthew and Mio.
Praise For…
---
*"An immersive, cinematic read, with two-page spreads beautifully capturing Taiwan's culture, landscapes, and spiritual monuments and architecture...Balancing humor and thoughtful reflection on identity, this graphic novel ultimately highlights the ideas of finding personal growth through new experiences."—
BCCB, starred review
"The story's sincere message of broadening cultural horizons is accompanied by detailed illustrations that resemble pencil line art and watercolor washes...A visual love letter to Taiwan."
—
Kirkus Reviews
"The teens' conversations surrounding their dreams, their fears, and their futures provide a grounding counterpoint to their playful banter and bombastic adventure."—
Publishers Weekly