Learning Korean: Recipes for Home Cooking (Hardcover)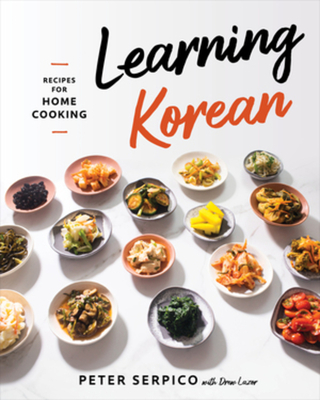 $35.00

NOT on our shelves - Usually Ships in 1-5 Days
Description
---
A "wildly inventive" (Food & Wine) James Beard Award–winning chef interprets one of Asia's greatest cuisines for the everyday eater.
The best Korean food is Korean home cooking. The cornerstones of every meal are kimchi and white rice, and once you unlock that perfect marriage of flavor, the universe of wholesome, vegetable-centric cooking will inspire healthy eating, every day. In this insightful and endearing cookbook, new flavors, techniques, and ways to enjoy one of the world's greatest cuisines are revealed by chef and father Peter Serpico.
Born in Seoul and raised in Maryland, Serpico's route to Korean food came long after making a name for himself in New York City restaurants. His first bites of marinated short ribs and black bean noodles tasted like home, and a love affair with the flavors and techniques of his birthplace began. His debut cookbook draws from his decades of professional cooking experience to elevate the greatest hits of at-home Korean dishes. Serpico's brilliant Instant Kimchi brings home the funk of fermented cabbage in record time, his hearty interpretation of gamjatang is a Spicy Pork Rib Stew to share, and his classic noodle and rice cake dishes borrow from grandma with clever spins for the modern, busy parent. BBQ fans will love a Korea-fied roast chicken and a sweet-and-spicy grilled cauliflower.
Across 100 recipes, Serpico shares his philosophy of eating, his personal journey into food, and a connection to family that promises satisfaction and comfort for cooks of all backgrounds. Also featured:


Beautiful photographs of nearly every dish, including more challenging techniques


An arsenal of condiments to elevate any meat or vegetable dish


Desserts and drinks that will appeal to even the pickiest child eaters


Tricks and tips for putting together healthy weekday meals





 





About the Author
---
Born in Seoul, South Korea, Peter Serpico was adopted when he was two years old, and was raised in Laurel, Maryland. Serpico graduated from the Baltimore International College Culinary School and his first cook job was at the Belmont Conference Center, where he worked under chef Rob Dunn. In 2006, Peter began as sous chef at the original Momofuku Noodle Bar in the East Village. For the next six years, Serpico worked with David Chang to open Momofuku Ssäm Bar and Momofuku Ko. As director of culinary operations, Serpico earned three stars from the New York Times, a James Beard Award, and two Michelin Stars, among other accolades. Serpico's highly praised eponymous restaurant on South Street in Philadelphia opened in 2013. Due to the COVID-19 pandemic, Serpico was reimagined as Pete's Place. In 2022, Serpico and restaurant-partner Stephen Starr launched a revamp of Pod, a long-standing Philadelphia pan-Asian restaurant, as KPod, with a menu inspired by Serpico's native South Korea. Serpico lives with his family in Philadelphia.
Praise For…
---
Peter Serpico—or just Serp, for those lucky enough to call him friend—is my brother in all things curious, culinary and sincere. Much like me, he learned how food—ordinary ingredients—can yield something extraordinary and bring people together.… An exploration of his Korean origins, this cookbook already has a permanent place in my kitchen, whispering to me to go beyond my boundaries, assuring me that something unexpected and delicious is just around the corner. You better believe I've already bookmarked 'Instant' Ramyam for One for easy access.
— Christina Tosi, chef and founder of Milk Bar

I've followed Peter Serpico's career since he was first starting out in New York, and it has been amazing for me to see the passion he has for Korean cuisine, especially dishes that one can cook at home for their family. That is the true essence of Korean cooking.
— Danny Lee, Chef/Co-Owner Anju, Mandu, CHIKO

Peter is a true friend, a wise mentor, a kind soul, and one of the most talented chefs I've ever met.
— Aaron Silverman, Chef at Rose's Luxury

Peter Serpico has uncanny culinary instincts, and he uses them with just enough restraint to create flavor combinations that are both new and familiar — and always addictive.
— Stephen Starr, Founder & CEO of Starr Restaurants

Peter is simply one of the best chefs not because of his mastery of cooking or his uncanny sense of flavor. Peter is one of the best teachers I've ever known, always improving techniques and developing clever hacks. I've seen it with my own eyes turning many novice cooks into skilled professionals. It was simply a matter of time before he turned his attention to the foods of Korea. This book not only will teach you how to make delicious Korean food but to think like a world class chef.
— David Chang, Chef and Founder of Momofuku Restaurant Group

Inspired by meals he's eaten in intimate family settings, Serpico here applies his refined restaurant background to home cooking, creating a Korean cookbook meant for the average home cook. . . If your goal this year is to learn Korean home cooking, Serpico has come up with a breezy, savvy way to teach you.
— Dayna Evans - Eater