MARVEL-VERSE: ROCKET & GROOT (Paperback)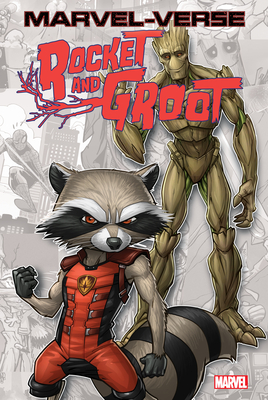 Description
---
Rocket and Groot are the most lovable duo in the Marvel-Verse - and these are some of their craziest adventures! Rocket Raccoon blasts his way into action as Guardian of the Keystone Quadrant - just as the Incredible Hulk lands in his jurisdiction! But when Rocket and Groot team up, that's when the fur really flies! Can they rescue a princess with a price on her head? Entertain a group of alien scouts with a campfire story? Tick-off their to-do-list on the mudball named Earth? And hold their own in Tony Stark's intergalactic Fantasy Football League? Plus: Rocket forms an unbeatable bond with Tippy-Toe the squirrel! Collecting INCREDIBLE HULK (1968) #271, FREE COMIC BOOK DAY 2014 (ROCKET RACCOON), ROCKET RACCOON (2014) #5, GROOT #6, ROCKET RACCOON AND GROOT #4, and material from A YEAR OF MARVELS: THE UNBEATABLE.
About the Author
---
Skottie Young has worked in both comics and animation for Warner Bros., Universal, Spike TV, Mattel, Fisher Price, Marvel, Dark Horse, Image and more. His distinctively stylized artwork graced runs on Human Torch, Venom, Spider-Man: Legend of the Spider-Clan and a revamp of New Warriors. He also drew the X-Men/Runaways team-up for Free Comic Book Day 2006 and a run of New X-Men. Young won acclaim from fans and critics alike with Marvel's series of New York Times-bestselling and Eisner Award-winning adaptations of L. Frank Baum's Oz novels with writer Eric Shanower. His Young Marvel variant covers became a sensation, leading to their own Secret Wars limited series, Giant-Size Little Marvel: AVX. Also a flourishing writer, Young brought his flair for madcap antics delivered in his trademark kinetic style to Marvel's Rocket Raccoon and Deadpool, as well as acclaimed creator-owned series I Hate Fairyland, Middlewest and The Me You Love In The Dark. He lives in Kansas with his wife, two sons, and two dogs.

Jeff Loveness is an Emmy Award-nominated writer whose work includes Jimmy Kimmel Live, The Onion News Network, Marvel comics and hastily made YouTube videos with friends. His comic-book credits include Death of Wolverine: Life After Logan, A+X, the Amazing Spider-Man/Inhumans/All-New Captain America crossover "Inhuman Error" and the first Groot solo series.

Jeff Parker began his career as a comic artist and Hollywood storyboard artist. In 2003, he self-published the acclaimed graphic novel The Interman and began writing regularly, notably launching Marvel Adventures: The Avengers. Though the series was aimed at younger readers, Parker's use of offbeat characters such as MODOK and Ego the Living Planet quickly developed a vocal and passionate following among all ages. Parker next revived a classic group of 1950s-era Marvel characters in Agents of Atlas, which quickly became the sleeper hit of 2006. Parker is one of Marvel's most prolific writers; his credits also include X-Men: First Class and Thunderbolts.

Brian Kesinger is an award-winning story artist at Walt Disney Animation Studios. His 19-year career at Disney has spanned both hand-drawn and CG-animated films from Tarzan to Big Hero 6. In addition to his film work, he is the celebrated author and illustrator of a series of Octo-Victorian picture books that showcase his style, wit and ability to tell engaging stories in original ways. His artistic journey has lead him to find an additional home with Marvel Comics where he blends his animation background with the sequential story format of comic books to create dazzling and expressive adventures.