Can't I Go Instead (Hardcover)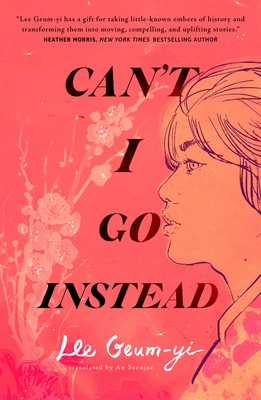 Description
---
Two women's lives and identities are intertwined—through World War II and the Korean War—revealing the harsh realities of class division in the early part of the 20th century.

"Lee Geum-yi has a gift for taking little-known embers of history and transforming them into moving, compelling, and uplifting stories."
—Heather Morris, #1 New York Times bestselling author

Can't I Go Instead follows the lives of the daughter of a Korean nobleman and her maidservant in the early 20th century. When the daughter's suitor is arrested as a Korean Independence activist, and she is implicated during the investigation, she is quickly forced into marriage to one of her father's Japanese employees and shipped off to the United States. At the same time, her maidservant is sent in her mistress's place to be a comfort woman to the Japanese Imperial army.

Years of hardship, survival, and even happiness follows. In the aftermath of WWII, the women make their way home, where they must reckon with the tangled lives they've led, in an attempt to reclaim their identities, and find their place in an independent Korea.
About the Author
---
LEE GEUM-YI was born in 1962, in her grandmother's house in the small, mountainous village of Chungcheongbuk-do, Korea. She became enthralled with the charms of storytelling early on, having spent her childhood under the influence of her grandmother's bedtime stories. Since then, Lee has published more than fifty books in South Korea, and her work has been translated around the world, including The Picture Bride, her first novel to be published in English. Beloved by readers and literary critics alike, many of her books have been adapted into TV series, musicals, and webtoons. Lee Geum-yi lives in Seoul, South Korea, with her husband, son, and her old rescue dog, Lulu.

AN SEONJAE (translator) has lived in Korea since 1980. He was born in Cornwall in 1942, and since 1969 has been a member of the Community of Taizé, where he is known as Brother Anthony. He has published some 50 volumes of translated Korean poetry, as well as the translations of several Korean novels.
Praise For…
---
"Can't I Go Instead's complex and profoundly human characters will captivate, devastate, and move you, all at once."
—Juhea Kim, author of Beasts of a Little Land and Dayton Literary Peace Prize finalist

"A true feast for historical fiction readers who love unpredictable stories and complex characters!"
—Lorena Hughes, award-winning author of The Spanish Daughter

"Compelling and inspiring, this story speaks of resilience and determination to make the best out of the situation one has been dealt."
—Booklist

Praise for The Picture Bride

"Lee Geum-yi has a gift for taking little-known embers of history and transforming them into moving, compelling, and uplifting stories. I loved Willow from the first page to the last. Loved her courage, and her tenacious, yet caring, beautiful soul. The Picture Bride is the ultimate story of the power of friendship—a must read!"
—Heather Morris, #1 New York Times bestselling author of The Tattooist of Auschwitz and Three Sisters

"A fascinating journey into the world of Korean "picture brides" whose lives take unexpected turns as they land on distant shores. A beautiful testimony to those women bold and determined enough to leave behind all that was familiar, seeking a better life."
—Lisa Wingate, #1 New York Times bestselling author of Before We Were Yours and The Book of Lost Friends

"A transporting and immersive story that will enthrall historical fiction readers. Poignant and moving, its unforgettable characters will stay with you long after you've finished reading."
—Chanel Cleeton, New York Times bestselling author of The Most Beautiful Girl in Cuba