What We Buried (CD-Audio)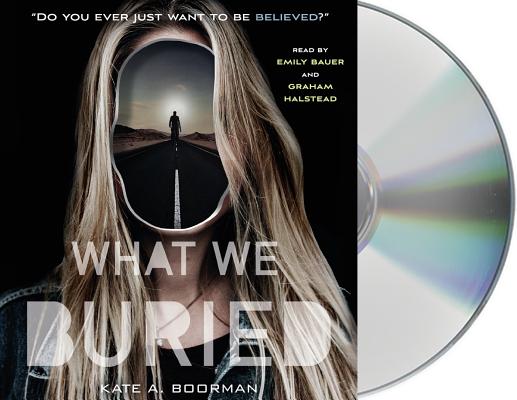 $39.99

If not in stock, we can Special Order from the publisher
Description
---
Told from the split viewpoints of Liv and Jory, Kate A. Boorman's What We Buried is a psychological thrill ride that deftly explores how memories can lie, how time can bend, and how reconciling the truth can be a matter of life or death.

"Do you ever just want to be believed?"

Siblings Liv and Jory Brewer have grown up resenting each another. Liv—former pageant queen and reality TV star—was groomed for a life in the spotlight, while her older brother, Jory, born with a partial facial paralysis, was left in the shadows. The only thing they have in common is contempt for their parents.

Now Liv is suing her mom and dad for emancipation, and Jory views the whole thing as yet another attention-getting spectacle. But on the day of the hearing, their parents mysteriously vanish, and the siblings are forced to work together. Liv feels certain she knows where they are and suspects that Jory knows more than he's telling…which is true.

What starts as a simple overnight road trip soon takes a turn for the dangerous and surreal. And as the duo speeds through the deserts of Nevada, brother and sister will unearth deep family secrets that force them to relive their pasts as they try to retain a grip on the present.
About the Author
---
Kate A. Boorman is an award-winning writer from the Canadian prairies. She was born in Nepal, grew up in the small town of Rimbey, Alberta, and now lives in Edmonton, where she wrangles her family and schemes up travel to faraway lands. Kate has a MA in Dramatic Critical Theory and has held an odd assortment of jobs, from accordion accompanist to qualitative research associate. She is the author of What We Buried and the Winterkill trilogy.

Emily Bauer is an award-winning voiceover actress who has read for dozens of popular audiobooks for children and adults, including Margery Williams's Velveteen Rabbit, Meg Cabot's Insatiable, and Ann Aguirre's Enclave. Her film credits include Mona Lisa Smile and Long Distance. She has done voiceovers for Nausicaä of the Valley of the Wind and Pokemon and has voiced scores of TV and radio commercials as well as cartoons, talking toys, and video games. She lives in New York.