This Land Is Our Land: An Immigrant's Manifesto (CD-Audio)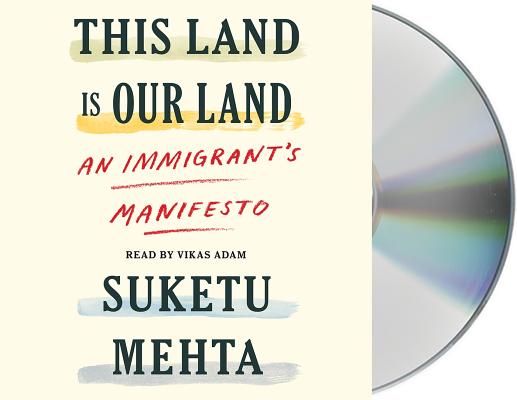 $39.99
Email or call for price.
Description
---
"Narrator Vikas Adam proves to be an excellent partner to author Suketu Mehta in this detailed and absorbing narrative...His facility with smooth pronunciation in a range of Indic and European languages and judiciously restrained use of sarcasm to relay irony combine to make a compelling book an even more compelling listen. The power of storytelling to convey truth is demonstrated here." — AudioFile Magazine

A timely argument for why the United States and the West would benefit from accepting more immigrants.

There are few subjects in American life that prompt more discussion and controversy than immigration. But do we really understand it? In This Land Is Our Land, the renowned author Suketu Mehta attacks the issue head-on. Drawing on his own experience as an Indian-born teenager growing up in New York City and on years of reporting around the world, Mehta subjects the worldwide anti-immigrant backlash to withering scrutiny. As he explains, the West is being destroyed not by immigrants but by the fear of immigrants.

Mehta juxtaposes the phony narratives of populist ideologues with the ordinary heroism of laborers, nannies, and others, from Dubai to Queens, and explains why more people are on the move today than ever before. As civil strife and climate change reshape large parts of the planet, it is little surprise that borders have become so porous. But Mehta also stresses the destructive legacies of colonialism and global inequality on large swaths of the world: When today's immigrants are asked, "Why are you here?" they can justly respond, "We are here because you were there." And now that they are here, as Mehta demonstrates, immigrants bring great benefits, enabling countries and communities to flourish.

Impassioned, rigorous, and richly stocked with memorable stories and characters, This Land Is Our Land is a timely and necessary intervention, and a literary polemic of the highest order.
About the Author
---
Suketu Mehta is the author of Maximum City: Bombay Lost and Found, which was a finalist for the Pulitzer Prize, and won the Kiriyama Prize and the Hutch Crossword Award. His work has been published in The New Yorker, The New York Times Magazine, National Geographic, Granta, Harper's, Time, and GQ. He has won a Guggenheim Fellowship, the Whiting Writers' Award, and an O. Henry Prize. He was born in Calcutta and lives in New York City, where he is an associate professor of journalism at New York University.