The Girl from Berlin: A Novel (Liam Taggart and Catherine Lockhart #5) (CD-Audio)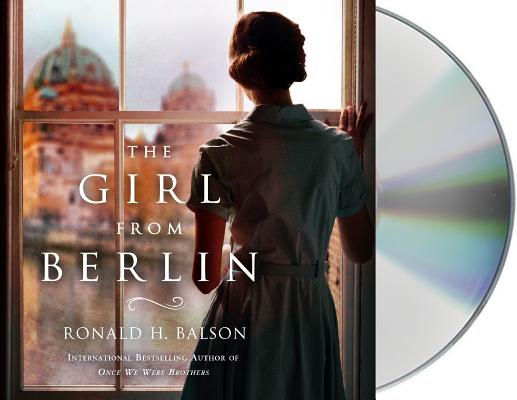 $52.99
Email or call for price.
Description
---
In internationally-bestselling author Ronald H. Balson's newest audiobook, The Girl from Berlin, Liam and Catherine come to the aid of an old friend and are drawn into a property dispute in Tuscany that unearths long-buried secrets.

An old friend calls Catherine Lockhart and Liam Taggart to his famous Italian restaurant to enlist their help. His aunt is being evicted from her home in the Tuscan hills by a powerful corporation claiming they own the deeds, even though she can produce her own set of deeds to her land. Catherine and Liam's only clue is a bound handwritten manuscript, entirely in German, and hidden in its pages is a story long-forgotten…

Ada Baumgarten was born in Berlin in 1918, at the end of the war. The daughter of an accomplished first-chair violinist in the prestigious Berlin Philharmonic, and herself a violin prodigy, Ada's life was full of the rich culture of Berlin's interwar society. She formed a deep attachment to her childhood friend Kurt, but they were torn apart by the growing unrest as her Jewish family came under suspicion. As the tides of history turned, it was her extraordinary talent that would carry her through an unraveling society turned to war, and make her a target even as it saved her, allowing her to move to Bologna—though Italy was not the haven her family had hoped, and further heartache awaited.

What became of Ada? How is she connected to the conflicting land deeds of a small Italian villa? As they dig through the layers of lies, corruption, and human evil, Catherine and Liam uncover an unfinished story of heart, redemption, and hope—the ending of which is yet to be written.
About the Author
---
RONALD H. BALSON is an attorney, professor, and writer. His novel
The Girl From Berlin
won the National Jewish Book Award and was the Illinois Reading Council's adult fiction selection for their
Illinois Reads
program. He is also the author of
Defending Britta Stein, Eli's Promise, Karolina's Twins
,
The Trust, Saving Sophie
, and the international bestseller
Once We Were Brothers
. He has appeared on many television and radio programs and has lectured nationally and internationally on his writing. He lives in Chicago.
Fred Berman is a five-time winner of the AudioFile Earphone Award for Audiobook Narration and the recipient of the 2013 Audie Award for narration in Spy the Lie. He has read a number of audiobooks for young listeners, including Judy Blume's Soupy Saturdays with The Pain & The Great One and Andrew Clements's The Last Holiday Concert. He has also narrated the audiobooks for Robert Kirkman's popular series, The Walking Dead.

Berman is an accomplished actor of both the stage and screen as well, performing on Broadway as Timon in The Lion King and off-Broadway in Hamlet, Twelfth Night, and King Lear. On television, Berman has had roles on NBC's hit series Smash as well as All My Children and Law and Order. He lives in New York City.