Middlegame (Paperback)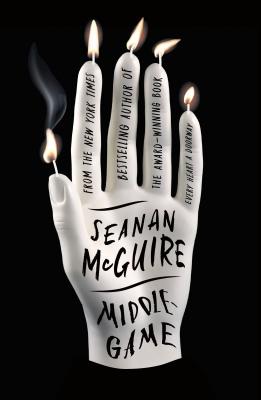 $19.99

On Our Shelves Now. Click on the title to see details.
Staff Reviews
---
Middlegame is a fantasy that defies easy categorization and is super hard to describe. What I can tell you is that you'll be swept along its 500+ pages and you will relish every moment. Alchemists trying to achieve total power; lonely, gifted twins separated at birth trying to connect and find their way; and a complex and utterly incomparable story make this a novel unlike anything you've read before.
— From
Julia's Recommendations
Description
---
A HUGO AWARD FINALIST!

WINNER OF THE LOCUS AWARD FOR BEST FANTASY NOVEL, 2020!

A Pick on the 2020 RUSA Reading List!

New York Times bestselling and Alex, Nebula, and Hugo-Award-winning author Seanan McGuire introduces readers to a world of amoral alchemy, shadowy organizations, and impossible cities in the standalone fantasy, Middlegame.

Meet Roger. Skilled with words, languages come easily to him. He instinctively understands how the world works through the power of story.

Meet Dodger, his twin. Numbers are her world, her obsession, her everything. All she understands, she does so through the power of math.

Roger and Dodger aren't exactly human, though they don't realise it. They aren't exactly gods, either. Not entirely. Not yet.

Meet Reed, skilled in the alchemical arts like his progenitor before him. Reed created Dodger and her brother. He's not their father. Not quite. But he has a plan: to raise the twins to the highest power, to ascend with them and claim their authority as his own.

Godhood is attainable. Pray it isn't attained.


A USA Today Bestseller, and named as one of Paste Magazine's 30 Best Fantasy Novels of the Decade!
About the Author
---
SEANAN McGUIRE is the author of the Hugo, Nebula, Alex, and Locus Award–winning Wayward Children series; the October Daye series; the InCryptid series; the delightfully dark Middlegame; and other works. She also writes comics for Marvel, darker fiction as Mira Grant, and younger fiction as A. Deborah Baker. Seanan lives in Seattle with her cats, a vast collection of creepy dolls, horror movies, and sufficient books to qualify her as a fire hazard. She won the 2010 John W. Campbell Award for Best New Writer, and in 2013 became the first person to appear five times on the same Hugo ballot.
Praise For…
---
"McGuire has an uncanny knack for taking the worst things that lurk in the shadows and weaving them into an absolute delight."—Becky Chambers

"Roger and Dodger are the heart of this story. They're its pulse and purpose — these two supernaturally gifted kids who come off like kids. And this is the greatest trick McGuire pulls here … It's the kind of book where you want to reach into the page just to help them out, to warn them of what's coming. It blossoms."—NPR

"This is a fascinating novel by an author of consummate skill."—Publishers Weekly, starred review

"Satisfying on all levels of the reading experience: thrilling, emotionally resonant, and cerebral."
—Kirkus Reviews, starred review

"McGuire sets a high bar for alchemy-based stories in this new stand-alone, twisting themes of time and space as seen through the eyes of children. . . . This singular work keeps readers thinking long after the final page."—Library Journal, starred review

"An excellent recommendation for those who enjoyed Lev Grossman's The Magicians and Lauren Oliver's Replica."—School Library Journal, starred review

"[A]n ambitious piece of world building from a master of the craft . . . thoroughly engaging."—Booklist

"Readers should come for the tightly constructed world and stay for the pleasure of watching the twins choose each other, come what may."—Shelf Awareness

"This is a tricky book to pull off, no doubt about it. But that trickery is pulled off with the kind of aplomb that has become one of McGuire's great skills. What a story to read (and re-read). If you've got a love for fantasy, you should read Middlegame."—Entertainment Weekly's Cultures

"Imaginatively conceived, carefully constructed, fantastically written ... another delightful and captivating outing from Seanan McGuire."—bookreporter

"An excellent recommendation for those who enjoyed Lev Grossman's The Magicians and Lauren Oliver's Replica."—School Library Journal

"Readers should come for the tightly constructed world and stay for the pleasure of watching the twins choose each other, come what may."—Shelf Awareness