Search for Books
ABA Mobile Menu
A Golden Fury: A Novel (Hardcover)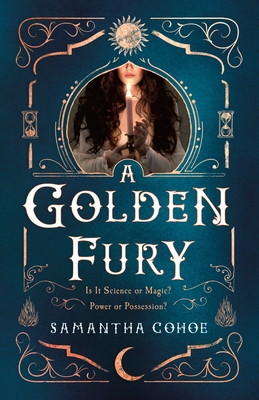 $18.99
On Our Shelves Now. Click on the title to see details.
Description
---
A vivid ride through eighteenth century Europe with darkness and dread creeping at its corners. Utterly enchanting. - Emily A. Duncan, New York Times bestselling author of Wicked Saints

"Cohoe transmutes the legend of the Philosopher's Stone into a dark, intoxicating tale of ambition, obsession, and sacrifice. Prepare for a magic that will consume you." - Rosamund Hodge, New York Times bestselling author of Cruel Beauty and Bright Smoke, Cold Fire

In her debut novel A Golden Fury, Samantha Cohoe weaves a story of magic and danger, where the curse of the Philosophers Stone will haunt you long after the final page.

Thea Hope longs to be an alchemist out of the shadow of her famous mother. The two of them are close to creating the legendary Philosophers Stonewhose properties include immortality and can turn any metal into goldbut just when the promise of the Stones riches is in their grasp, Theas mother destroys the Stone in a sudden fit of violent madness.

While combing through her mothers notes, Thea learns that theres a curse on the Stone that causes anyone who tries to make it to lose their sanity. With the threat of a revolution looming, Thea is sent to live with the father who doesnt know she exists.

But there are alchemists after the Stone who dont believe Theas warning about the curseinstead, theyll stop at nothing to steal Theas knowledge of how to create the Stone. But Thea can only run for so long, and soon she will have to choose: create the Stone and sacrifice her sanity, or let the people she loves die.
About the Author
---
Samantha Cohoe writes historically-inspired young adult fantasy. She was raised in San Luis Obispo, California, where she enjoyed an idyllic childhood of beach trips, omnivorous reading, and writing stories brimming with adverbs. She currently lives in Denver with her family and divides her time among teaching Latin, mothering, writing, reading, and deleting adverbs. A Golden Fury is her debut novel.
Praise For…
---
BOOKRIOT, "New Fall 2020 YA Books To Add To Your TBR"

CULTURESS, "12 New YA Book Releases October 2020"

EPIC READS, "The 19 Most Anticipated YA Books to Read in October"

GOODREADS, "October's Most Anticipated YA Reads"

THE MARY SUE BOOK CLUB, "October 2020: Spooky Season Is Out in Full Force"

THE NERD DAILY, "20 SFF YA Debuts To Watch Out For In 2020"

POPSUGAR, "Best New YA Books of October 2020"

"An engaging concoction of fantasy, romance, and historical fiction." - Booklist

"Cohoe situates the supernatural among the historical, referencing the French Revolution and the Enlightenment while...keeping a sense of urgency as Thea struggles with the magical, demonic pull of the Stone." - Bulletin of the Center for Children's Books

"If you liked Belle Revolte by Linsey Miller or All That Glitters (previously Enchante) by Gita Trelease, you will love A Golden Fury." - NerdSpan

"The attention to detail in the story is excellent. ...Thea herself is a confident lead with a strong voice. A solid fantasy to flesh out the world of alchemy that most readers know only from 'Harry Potter.'" - School Library Journal

Sharply written with a crackling, compassionately determined heroine, A Golden Fury is a vivid ride through eighteenth century Europe with darkness and dread creeping at its corners. Utterly enchanting. - Emily A. Duncan, New York Times bestselling author of Wicked Saints

"Cohoe transmutes the legend of the Philosopher's Stone into a dark, intoxicating tale of ambition, obsession, and sacrifice. Prepare for a magic that will consume you." - Rosamund Hodge, New York Times bestselling author of Cruel Beauty and Bright Smoke, Cold Fire

"Steeped in mystery and magic, Samantha Cohoes A GOLDEN FURY immerses readers in beautifully rendered world where magic and science mix, and where the intoxication of power can be deadly. Whip-smart Thea is a heroine readers will root for." - Lisa Maxwell, New York Times bestselling author of The Last Magician

"A Golden Fury is beguiling and unpredictable. Cohoe weaves an international adventure set against a rich historical backdrop, and alchemist Thea faces adversaries both human and magical with wit and grit. A compelling debut from a writer to watch." - Hannah Capin, author of Foul is Fair and The Dead Queens Club

"Alchemists used many methods to hide their secrets, but Cohoe has deciphered their riddles -- and uncovered a truth far darker and more complex than a miraculous rock. She lures you in with a promise of gold, then delivers something far more valuable: an intricate tale of ambition and sacrifice, loyalty and betrayal, the quest for knowledge and the wisdom to use it correctly." - Marie Brennan, author of The Memoirs of Lady Trent

"I adore Thea - her fierce ambition, her intelligence, and the warmth she so desperately wants to share with someone worthy. This is an alchemical wonder of a book. It takes all the elements of a good story - mystery, magic, devastating stakes, compelling relationships and impossible choices - and weaves them into pure gold." - Catherine Egan, author of Julia Unbound

A GOLDEN FURY invites you into a world of intrigue, magic and ambition. Set against the backdrop of the French revolution, it follows a talented, driven heroine, raised by her famous and overbearing mother to pursue alchemys ultimate dreamthe Philosophers Stonein a time when women had little rights of their own. Cohoes prose is flush with clever dialogue and flawed-yet-sympathetic characters, so realistic they leap off the page. First loves, family secrets and shocking betrayals abound as our heroine pits her intellect against a curse of madness in this impossible-to-put-down debut. - Ellen Goodlett, author of Rule

"Full of rich historical detail, clever world-building, and tumultuous relationships, A Golden Fury transformed me. Cohoe's debut proves we are in the hands of a deft and dangerous creator. I sat up half the night thinking about it, and the other half longing to see her next book." - Tracy Townsend, author of Thieves of Fate series

"I fell for this thrilling tale of madness and murder, alchemy and obsession and the fiercely determined Theosebeia Hope who will stop at nothing to get her hearts desire. I could not turn the pages fast enough!" - Gita Trelease, author of Enchantee