The Girl from Berlin: A Novel (Liam Taggart and Catherine Lockhart #5) (Paperback)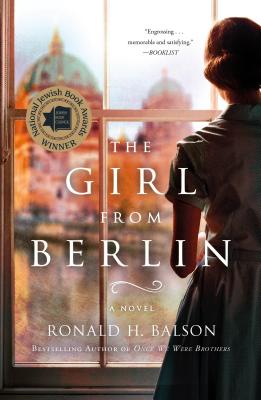 $16.99

NOT on our shelves - Usually Ships in 1-5 Days
Description
---
Ronald H. Balson's The Girl from Berlin is the winner of the Book Club category for the 2018 National Jewish Book Award. In this new novel, Liam and Catherine come to the aid of an old friend and are drawn into a property dispute in Tuscany that unearths long-buried secrets

An old friend calls Catherine Lockhart and Liam Taggart to his famous Italian restaurant to enlist their help. His aunt is being evicted from her home in the Tuscan hills by a powerful corporation claiming they own the deeds, even though she can produce her own set of deeds to her land. Catherine and Liam's only clue is a bound handwritten manuscript, entirely in German, and hidden in its pages is a story long-forgotten…

Ada Baumgarten was born in Berlin in 1918, at the end of the war. The daughter of an accomplished first-chair violinist in the prestigious Berlin Philharmonic, and herself a violin prodigy, Ada's life was full of the rich culture of Berlin's interwar society. She formed a deep attachment to her childhood friend Kurt, but they were torn apart by the growing unrest as her Jewish family came under suspicion. As the tides of history turned, it was her extraordinary talent that would carry her through an unraveling society turned to war, and make her a target even as it saved her, allowing her to move to Bologna—though Italy was not the haven her family had hoped, and further heartache awaited.

What became of Ada? How is she connected to the conflicting land deeds of a small Italian villa? As they dig through the layers of lies, corruption, and human evil, Catherine and Liam uncover an unfinished story of heart, redemption, and hope—the ending of which is yet to be written.
About the Author
---
RONALD H. BALSON is an attorney, professor, and writer. His novel The Girl From Berlin won the National Jewish Book Award and was the Illinois Reading Council's adult fiction selection for their Illinois Reads program. He is also the author of Defending Britta Stein, Eli's Promise, Karolina's Twins, The Trust, Saving Sophie, and the international bestseller Once We Were Brothers. He has appeared on many television and radio programs and has lectured nationally and internationally on his writing. He lives in Chicago.
Praise For…
---
Praise for The Girl from Berlin:

"Ron Balson never disappoints with his rich, historical thrillers. Woven with research and detail, The Girl from Berlin is not to be missed." —Alyson Richman, international bestselling author of The Lost Wife

"Ron Balson's masterful historical novel The Girl from Berlin illustrates how crimes buried in the past can reverberate across future generations. In this story, the powerhouse duo of attorney Catherine Lockhart and investigator Liam Taggart must travel to Italy to solve a mystery that somehow ties an elderly women in Tuscany who is about to lose her beloved vineyard, with a Jewish violin prodigy in 1930's Berlin during Hitler's rise. This is a fascinating, fast-paced dual-narrative that I could not put down. It is a heart-wrenching story of survival, hope and, ultimately, redemption that is sure to thrill current fans of Balson's novels and create many new ones!" —Jane Healey, author of The Saturday Evening Girls Club

"Balson's many fans will thoroughly enjoy this new addition to the series, which continues the earlier novels' dynamics plotting, compelling characters, and back-and-forth between-eras action. Newcomers will find the portrayals of the plight of the Jews in Central Europe leading up to and during World War II an unvarnished testament to the ugly truth." —Library Journal

"Murder, deception, and greed are involved, but this compelling story also offers the beauty of music and love, and the possibility of redemption."- Jewish Book Council

Praise for The Trust:

"A thrilling, action-filled suspense novel…. Those who loved Balson's other books like Once We Were Brothers and Karolina's Twins will love this latest entry." —The Huffington Post

"Weaving together history with mystery, Ronald H. Balson crafts a compelling tale." —Us Weekly

"This top-notch thriller will keep readers riveted to the very last page. The Northern Irish setting with appeal to fans to Adrian McKinty and Stewart Nevill, and the familial and political issues will attract psychological thriller addicts." —Library Journal

"[The Trust] did not disappoint." —Beyondthebookends

Praise for Karolina's Twins:

"Karolina's Twins is a moving reminder of how love and human connections kept people alive during the Holocaust and helped them create a new life afterward." — Jewish Federation of Greater Binghamton's The Reporter

"Readers who crave more books like Balson's Once We Were Brothers (2013) and Kristin Hannah's best-selling The Nightingale (2015) will be enthralled by Karolina's Twins." —Booklist (starred review)

"A heartbreaking tale of a mother's love, friendship, and family in the face of increasingly brutal conditions and the constant threat of imminent death in Nazi-occupied Poland…reminiscent of the author's first novel Once We Were Brothers…compelling." —Library Journal

"The third in Balson's promising series about a husband-and-wife investigation team specializing in Holocaust cases. [Lena Woodward's] survivor account becomes the main source of suspense, since she is reluctant to reveal the full horror of what she experienced until the end…and [it] does not disappoint." —Kirkus

"Karolina's Twins is involving right from the start, it reads quickly, and fans of historical fiction are sure to enjoy it." — Chicago Jewish Star

"I just finished reading Karolina's Twins. Quite a read! I must say that Balson kept me on the edge of my seat wondering what the next chapter would reveal. He did an excellent job in staying true to the historical facts of those years of the Holocaust and what Lena, the main character and survivor, had to go thru in ghettos and death camps to persevere, and now 70 years later recount those events to her lawyer who is tasked with finding "Karolina's twins" who were presumed lost during the war years. Throughout the book, Balson keeps the suspense so riveting as to whether the twin girls will be found and the recounting of Lena's experiences in the war, that it was difficult to put the book down. I would say most will read it in one night sitting—Kudos to Ronald Balson. (I am a child survivor of the Holocaust—I appreciate his sensitivity and integrity to the subject.) And thank you for sending me a copy!" — Dr. Miriam Klein Kassenoff, Director of the University of Miami Holocaust Teacher Institute

"Secrets, friendships, survival, and the Holocaust are woven together in Ronald H. Balson's haunting Karolina's Twins." —Family Circle

Praise for Saving Sophie:

"In Balson's solid sequel to Once We Were Brothers, …[he] succeeds in illuminating the personal side of the Middle Eastern conflict through his deeply human, psychologically credible characters." —Publishers Weekly

"Saving Sophie is a page turning read filled with despair and anger but with hope, love, and humanity at its core." —Jewish Book Council

"Balson keeps readers wanting to know more, as he ties up each loose end toward the conclusion of this action-adventure thriller." —Baltimore Jewish News

Praise for Once We Were Brothers:
"As compelling a story as you would ever want to read….You won't be disappointed…a new look at an old story, and it will stay with you long after you have finished it." —Jackie K Cooper, Huffington Post


"Once We Were Brothers tells a great story…gripping…" —The Chicago Tribune

"[OWWB is] richly detailed in character and solidly researched history." — The Chicago Tribune

"This novel is uplifting and moving, intelligently written and featuring historically accurate context and an unusual insight into human character and motivations. Highly recommended for all readers." —Library Journal (starred review)

"Readers will be riveted by this novel's central question: Will justice long delayed be denied?" —Kirkus Reviews


"This thriller opens with a bang…[a] decades-spanning page-turner." —Reader's Digest

"The author describes the atrocities of wartime Poland and the beautiful, eternal romance between Ben Solomon and his wife, Hannah. Balson's first novel is hard to put down." —The Jewish Book World

"Balson does a number of things superbly: he crafts a highly readable plotline and makes great use of the Chicago backdrop…many will enjoy this gripping novel for its narrative drive and its emotional storytelling." —Booklist


"A legal thriller...a reader knows he's writing from the inside." —Chicago Jewish Star

"This novel touches the heart of the reader." —Midwest Book Review