I, Spy: How to Be Your Own Private Investigator (Paperback)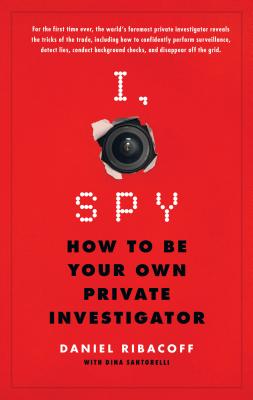 $19.99

NOT on our shelves - Usually Ships in 1-5 Days
Description
---
Have you ever wanted to be your own private eye? Have you ever wanted to track down long-lost relatives or people who've scammed you? Have you ever wanted to know if your kids really are where they say they are? Or if your significant other is cheating on you? Or how to locate assets in order to collect on a judgment?

World-renowned private investigator Dan Ribacoff will show you how. With decades of experience in public safety, private investigation, and credibility assessment, Dan will teach you:

The do's and don'ts of surveillance
How to conduct a stakeout--from what to wear to what to bring
How to track down anyone anywhere
How to collect and interpret evidence
How to tell if someone is lying
How to utilize informants
How to protect your home, your valuables, and your privacy
How to go off-grid, for now or forever
How to know if you're being stalked
The fundamentals of garbage retrieval
And much, much more!

Learn the art of private investigation from a pro. With Dan's time-tested tips and stories of true crime detection--straight from the gritty streets of New York City--you'll be hot on the trail in no time!
About the Author
---
Daniel Ribacoff is the founder and CEO of International Investigative Group, Ltd. He is a trained polygraph examiner and has been a private investigator for over 23 years. Ribacoff studied at The Academy of Scientific Investigative Training, Philadelphia, PA. He was named as the 1991 Man of the Year for the NYPD Honor Legion. Ribacoff has worked on many notable investigations, including a $120 million dollar bank fraud case for AIG Insurance Co., one of the largest bank fraud cases in US history. He also worked on the 1993 World Trade Center Bombing investigation and conducted investigations into the case US v. Osama Bin Laden, et. al. He has conducted many investigations recovering rare works of art, such as Monet, Picasso, and Twombley paintings. His investigations have resulted in millions of dollars being recovered throughout the world for his clients. He was named as one of the "Top 15" investigators in the US by ION. His firm has been featured in the New York Times, Wall Street Journal, Chicago Tribune, CNN, CNBC, and many others.

DINA SANTORELLI has been a freelance writer for over 15 years and has written frequently about entertainment and pop culture topics. Voted one of the Best Long Island Authors for 2013 (Long Island Press), Dina has collaborated on a variety of book projects, including Good Girls Don't Get Fat (Harlequin, 2010), The Brown Betty Cookbook (Houghton Mifflin Harcourt, 2012) and Bully (Weinstein, 2013), the companion book to the acclaimed documentary. Additionally, Dina's debut novel, Baby Grand, is a Top Rated Mystery & Thriller on Amazon Kindle. Dina currently serves as the Executive Editor of Salute and Family magazines.