Confession of the Lioness: A Novel (Paperback)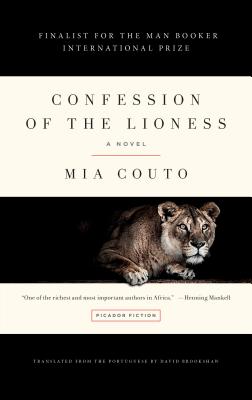 Description
---
A dark, poetic mystery about the tribal women of Kulumani and the lionesses that hunt them

Told through two haunting interwoven diaries, Mia Couto's Confession of the Lioness reveals the enigmatic world of Kulumani, an isolated village in Mozambique whose traditions and beliefs are threatened when ghostlike lionesses begin hunting and killing the women who live there.

The young Mariamar, whose sister was recently killed in an attack, has been imprisoned by her father in his home. Meanwhile, a marksman, the outsider Archangel Bullseye, has arrived to track the deadly lionesses, but as he pursues them in the wilderness, the hunt proves deadlier than imagined. As the predators continue to close in, and the village confronts the forces of modernity, it becomes clear that the lionesses may not be animals at all, but the spirits conjured by the village women's ancient witchcraft.

Both a riveting mystery and a poignant examination of women's oppression, this darkly poetic novel combines reality, superstition, and magical realism to startling effect.
About the Author
---
Mia Couto, born in Mozambique in 1955, is one of the most prominent writers in Portuguese-speaking Africa. After studying medicine and biology, he worked as a journalist and headed several Mozambican national newspapers and magazines. Couto has been awarded the Camões Prize for Literature and the prestigious Neustadt International Prize for Literature, among other awards. He was also short-listed for the 2017 IMPAC DUBLIN Literary Award and was a finalist for the Man Booker International Prize in 2015. He lives in Maputo, where he works as a biologist.
Praise For…
---
"Masterfully wrought . . . Confession of the Lioness sings with the musical nuance of a poem." —Heather Scott Partington, Los Angeles Times

"Couto's work doesn't so much blur the generic and stylistic boundaries we normally draw as explode them . . . Confession of the Lioness reads as a parable of human savagery and its consequences. It shows how humans might transform, literally and metaphorically, into animals; how violence, once committed, takes on an independent and inexorable life." —Anthony Domestico, The Boston Globe

"Myths, magic, tradition and reality intersect to the extent that it becomes difficult to tell them apart. . . [Couto's] magical realism is never too cute, instead leaning toward a dispassionate, documentary portrayal of unlikely interpretations of ugly events" —Dave Burdick, The Denver Post

"It's an old-fashioned tale whose earthy wisdom and shimmering magic will make you want to discover more of Couto's work." —Nicole Jones, Vanity Fair

"A meditation on the nature of memory . . . [Couto is] a brilliant aphorist. There are countless sentences that, in David Brookshaw's clean-cut translation from the Portuguese, have the weight and wisdom of ancient proverbs." —Sam Sacks, The Wall Street Journal

"A rich tale in which the spirit world is made real, animals are controlled by people, and dead ancestors are feared for their power to destroy cities. Couto also manages to explore the clash of disparate belief systems-tribal, Islam, Christian-in postcolonial Africa and deftly weaves in a critique of the embedded patriarchy" —Kirkus Reviews

"Couto weaves a surreal mystery of humanity against nature, men against women, and tradition against modernity." —Publishers Weekly

"Both a riveting mystery and a poignant examination of women's oppression, Confession of the Lionessexplores the confrontation between the modern world and ancient traditions to produce an atmospheric, gripping novel." —Carolina Matos, Portuguese American Journal