Pogue's Basics: Life: Essential Tips and Shortcuts (That No One Bothers to Tell You) for Simplifying Your Day (Paperback)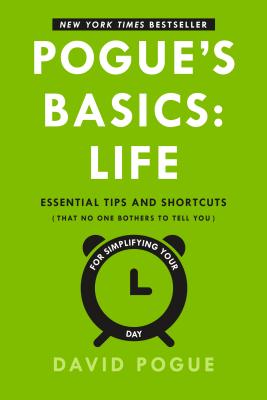 List Price: $19.99
Our Price: $10.00
(Save: $9.99 50%)
Description
---
New York Times Bestseller

Do you know the pinhole-finger trick for seeing without glasses?
Did you realize that booking a hotel room with your phone is cheaper than doing it on your PC?
Do you know how to get the last dregs of ketchup out of the bottle—in one second?

In David Pogue's New York Times bestselling book Pogue's Basics: Tech, the author shared his essential tips and tricks for making all your gadgets seem easier, faster, and less of a hassle to use. In this new book, he widens his focus—to life itself. In these pages, you'll find more than 150 tricks, shortcuts, and cheats for everyday life: house and home, cars, clothing, travel, food, health, and more. This timeless reference book will shed light on priceless bits of advice and life hacks that already exist in the world around you—you just never knew!

Tips include: Insider cheats for cheap air fare, how to read signs in other languages, the three-cent trick for staying awake behind the wheel, how to know which side of the highway your exit will be on, how to quench a spicy mouth on fire, and much much more!
About the Author
---
DAVID POGUE has 1.5 million followers on Twitter and recently launched a consumer-tech site for Yahoo. Previously he was the tech columnist at The New York Times for thirteen years where he wrote weekly columns that constantly ended up on the Top Ten List of most e-mailed articles of the paper. Additionally Pogue writes a monthly column for Scientific American, is the creator of the Missing Manual computer-book series, and hosts science shows on PBS's NOVA. He has been a correspondent for CBS Sunday Morning since 2002, for which he has won two Emmys, as well as two Webbys, and a Loeb award for journalism.
Praise For…
---
"Pogue's Basics: Life is a master class in the quotidian arts.... What Pogue offers are keyboard shortcuts for the interface of life." —The New York Times

"This book by David Pogue is so useful… I love this book. I've implemented more stuff from this book than probably any other book I've ever read… More than any other book I've ever written, too." —Guy Kawasaki

"This is a great book…. [It's] the "Missing Manual" for life." —Leo Laporte, This Week in Tech