Building a Wellness Business That Lasts: How to Make a Great Living Doing What You Love (Hardcover)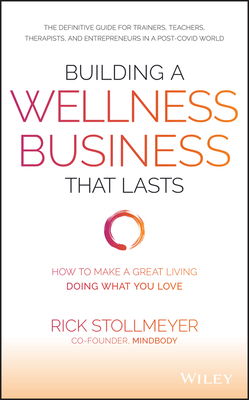 $28.00
On Our Shelves Now. Click on the title to see details.
Description
---
Start and grow a durable business in the rapidly growing wellness industry
As we emerge from COVID-19 the world sits on the cusp of a massive wave of wellness industry growth. This Fourth Wave of Wellness will bring hundreds of millions more people into healthier, happier lifestyles, creating millions of jobs and producing massive entrepreneurial opportunities. Whether your goal is to work from home, open a neighborhood wellness studio or launch the next global wellness brand, Building a Wellness Business That Lasts is your definitive guide.
Wellness has become one of the largest and most important business opportunities of our age, fueled by massive societal trends, rapid technology innovations, and hundreds of thousands of wellness business entrepreneurs. Independent teachers, trainers, and therapists and studio, gym, spa, and salon owners across the globe are transforming shopping malls and downtown districts with wellness experiences that help hundreds of millions of people live healthier, happier lives.
Author Rick Stollmeyer is the co-founder and CEO of Mindbody, Inc., the leading technology platform for the wellness industry. Over more than two decades, Rick built Mindbody from a garage startup into a multi-billion-dollar technology platform for the wellness industry, helping thousands of wellness business owners achieve their visions in the process. This experience has given Rick a front row seat to the explosive growth of the wellness industry. He brings that unique experience and his passion for entrepreneurship to Building a Wellness Business That Lasts. This book will inspire and inform you at the same time and will serve as a powerful guide you can refer to on your path to success.
About the Author
---
RICK STOLLMEYER co-founded Mindbody in his garage in 2000 and served as the company's CEO until August 2020. During his two-decade tenure as the company's principal leader and visionary, Rick played a key role in the development of the modern wellness industry--from the introduction of the industry's first integrated online booking and business management systems in the early 2000s, to the release of the first fully cloud based business management solution in 2005, to the groundbreaking Mindbody Consumer App that is used by millions of people today. Rick remains closely involved with Mindbody, serving as the company's executive chairman and advocating for wellness businesses and practitioners around the world.