How to Run Your Business by THE BOOK (Paperback)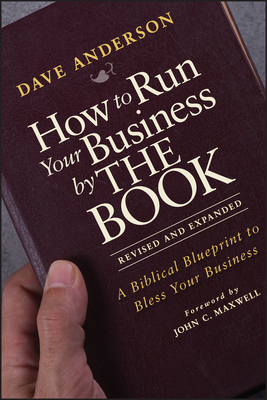 $22.00

NOT on our shelves - Usually Ships in 1-5 Days
Description
---
A revised Second Edition of the book that shows you how to use Bible-based leadership principles to improve business performance
In How to Run Your Business by THE BOOK, famed leadership guru Dave Anderson reveals biblical lessons to help transform the people, culture, and results of your business. Not only will you master timeless business principles based on the world's bestselling book, you'll build a foundation for your business that leads to long-term success. It's a refreshing return to commonsense business basics, based on leadership lessons peppered throughout the Good Book. You'll read what the bible has to say about hiring and training people, managing money, creating a leadership vision, achieving ambitious goals, and much more.
This new Second Edition features a new introduction that includes letters from readers about their success using these principles, a new chapter on leading through crisis, and bonus sections at the end of each chapter that offer new and expanded insights on these powerful leadership principles.
Includes practical, proven business guidance gleaned from the Bible
Features smart business guidance like the High-Five Principles for elevating your people skills, Four Mandates to Maximize Your Time, and How to Overcome the Number One Cause of Management Failure
Fully updated with a new Introduction, new section chapter conclusions that help you follow through on each chapter's principle, and an entirely new chapter on crisis leadership
Dave Anderson is also the author of Up Your Business , If You Don't Make Waves, You'll Drown, How to Deal with Difficult Customers, and How to Lead by THE BOOK
Best of all, you don't need to be familiar with the Bible to profit from these wise and timeless principles. All you need is a heart open to biblical wisdom and a willingness to lead with courage.
About the Author
---
DAVE ANDERSON is an international speaker and trainer and the President of Learn to Lead, a sales and leadership training company. He is the author of twelve books, including If You Don't Make Waves You'll Drown, How to Deal with Difficult Customers, The TKO Business Series, and How to Lead by THE BOOK. He offers hundreds of free training articles to subscribers in forty countries through his website learntolead.com.