Sleeping with Strangers: How the Movies Shaped Desire (Paperback)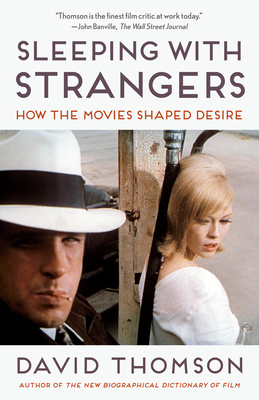 $17.00

On Our Shelves Now. Click on the title to see details.
Description
---
In this wholly original work of film criticism, David Thomson, celebrated author of The Biographical Dictionary of Film, probes the many ways in which sexuality has shaped the movies—and the ways in which the movies have shaped sexuality. Exploring the tangled notions of masculinity, femininity, beauty, and sex that characterize our cinematic imagination—and drawing on examples that range from advertising to pornography, Bonnie and Clyde to Call Me by Your Name—Thomson illuminates how film as art, entertainment, and business has historically been a polite cover for a kind of erotic séance. In so doing, he casts the art and the artists we love in a new light, and reveals how film can both expose the fault lines in conventional masculinity and point the way past it, toward a more nuanced understanding of what it means to be a person with desires.
About the Author
---
David Thomson is the author of The Biographical Dictionary of Film, Moments That Made the Movies, The Whole Equation, and the pioneering novel Suspects, which was peopled with characters from film. He lives in San Francisco.
Praise For…
---
"David Thomson is the finest film critic at work today." —John Banville, The Wall Street Journal

"[Sleeping with Strangers] contain[s] more original insights, provocative asides and thought-inducing speculations than several volumes of a less talented writer's efforts . . . Thomson, a stylist extraordinaire, has written an unaccountable and irresistible book." —The New York Times Book Review

"[An] ambitious and feverish exploration of sex and sexuality on celluloid, and of the way that Hollywood's vision of desire has seeped into the spaces behind and beyond the camera." —The New Yorker

"A typically concentrated paragraph of David Thomson offers more fervent ideas and intellectual sustenance than many—most?—books. Sleeping with Strangers is a pinwheel of delight revolving around the variegated signals of sexuality and gender identification communicated by the movies and the figures inhabiting them. Thomson makes the two dimensions of the movies three-dimensional, and you don't have to wear those ridiculous glasses." —Scott Eyman, author of John Wayne: The Life and Legend
 
"This, I think, is Thomson's most powerful book and one of the smartest ever written about sex and the movies. . . . A fearless, personal, revealing and wildly original account of how men and women in American movies have affected the sexual desires all the rest of us have. This is a brand new way of looking at movie history—and a brutally frank one, too." —Jeff Simon, The Buffalo News
 
"Another essential volume from an essential writer. . . . Thomson pulls no punches and takes no shortcuts." —Kirkus Reviews (starred review)
 
"Did Hollywood turn all of us into voyeurs? Thomson, one of film writing's smartest and most iconoclastic thinkers, says 'Oh yeah,' in this thought-provoking history/critique/memoir." —Milwaukee Journal Sentinel
 
"Move over, darling film books, and make room for another irresistible beauty from David Thomson. No writer makes better love to his subject." —Patrick McGilligan, author of Young Orson: The Years of Luck and Genius on the Path to Citizen Kane
 
"Thomson is at his best when he's mining . . . hidden veins of meaning, noticing a detail in a familiar film that helps you see the movie in a new way." —The Atlantic
 
"Part personal moviegoing memoir, part deeply informed film history. . . . Thomson deploys his encyclopedic knowledge of film so genially and dexterously that readers who are movie aficionados will want to rewatch their favorites through his eyes." —Publishers Weekly
 
"Discerning and provoking." —Esquire (UK)
 
"Unfailingly provocative. . . . Thomson is pretty much a walking encyclopedia of film history, and this is the kind of subject he can really sink his teeth into. Fascinating and illuminating." —Booklist
 
"David Thomson never fails to dazzle me with his striking, original, and evocative prose. . . . Sleeping with Strangers is a beautiful, mysterious book, both learned and wickedly entertaining. It is an intimate, passionate interrogation (and celebration) of how cinema has shaped our erotic imaginations and, ultimately, both our secret and public expressions of desire." —Dana Spiotta, author of Eat the Document