Four Tombstones: a Josie Jameson mystery (Paperback)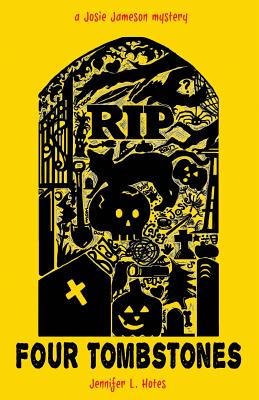 $20.00

NOT on our shelves - Usually Ships in 1-5 Days
Description
---
Halloween.
The night the barrier between the dead and the living is as thin as muslin. Fifteen-year old Josie, haunted by the death of her mother, leads her best friends to an ancient cemetery to rub graves. Convinced she will come away with proof of her mother's spirit at last, the evening takes an unexpected turn as the teens gravitate four ways into the haunted grounds.
Set against the backdrop of the rainy Pacific Northwest, four graves will be rubbed, touching off a series of events that will rattle their once mundane lives. From the lonely World War II hero to an accused witch, the people buried beneath the tombstones have stories that need an ending. The journey to unravel the mysteries leaves the friends wondering if the graves would've been better off left alone.
About the Author
---
Raised across the river from a nuclear reactor, Jennifer thought two-headed animals at the county fair were normal until she moved to the big city. Jennifer has been looking at the world through a cracked kaleidoscope since she was born and has been writing since her parents pushed her crib against a blank wall. Fortunate enough to marry her best friend, she and her husband currently reside in the Seattle area with their two daughters, two cats and one unruly pup.