Better Angels: You Can Change the World. You Are Not Alone. (Paperback)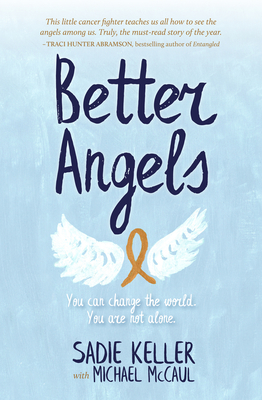 $15.95

NOT on our shelves - Usually Ships in 1-5 Days
Description
---
 How can you take the worst thing that ever happened to you… and use it to make thousands of children happy? Sadie Keller did just that. Told in her own words, this girl's inspiring story will stir the soul of anyone who wants to find hope in humanity. Diagnosed with cancer at age seven, Sadie sneaked into her mother's closet and filmed an instructional video to help kids like her. It became a viral sensation. Worried about whether Santa could deliver toys to all the kids in her hospital, she started a toy drive. It became a movement that turned into a foundation and a national year-round program that has collected tens of thousands of toys for kids battling cancer. Along the way Sadie met hundreds of cancer kids… and ended up having to say goodbye to some of her closest friends. Kirkus Reviews says, "The book is message-driven and is written in an accessible and engaging style... Will resonate with young people who have experienced illness or wish to fight for others." To help save other children, Sadie teamed up with Congressman Michael McCaul. She became a star lobbyist, helping get a law passed that directed billions of dollars of research aimed at sparking next-level cures for childhood cancer. And she did it all by finding angels—friends, family, strangers, and some of the most powerful people in the world. Better Angels is a heartbreaking yet heartwarming tale of what it's like to face the possibility of death at a young age and how to turn it into a life-giving opportunity. It can serve as a user's manual for anyone who wants to change the world… by seeking and sparking love from the countless people who can help make it happen.
About the Author
---
On February 25, 2015, at the age of 7, Sadie Keller was diagnosed with Acute Lymphoblastic Leukemia. For 2 1/2 years, Sadie fought through many hard times and was out of school for her 2nd and 3rd grade years. She received her last chemotherapy on May 26, 2017, and continues to receive monthly checkups and lab work. Only 2 months after Sadie was diagnosed, she began making videos about what it's like to have cancer as a child. She did these in a closet without her parents knowing. Sadie hated to not know what to expect, so she made these videos to help other kids not be so afraid. Sadie's mission continued as she and her family founded the Sadie Keller Foundation (https://sadiekellerfoundation.org) to help raise awareness for Childhood Cancer. And, in Sadie's own words, "I know how hard it is to fight cancer as a child, first hand. My mission for the Sadie Keller Foundation is to put a smile on the faces of children fighting cancer all over the country, and remind them to keep fighting by giving them special gifts, to raise awareness for childhood cancer, and to make a HUGE impact." Out of all the money given to cancer research from the National Cancer Institute, only 4% is given to all childhood cancers. Sadie lobbies in Washington D.C. several times a year to help change this and for several Childhood Cancer Acts. She has helped lobby the passage of the Creating Hope Act, RACE for Children Act, and the STAR Act in which she was invited to the Oval Office while the President signed it into law. She is a public speaker, advocate and helps run her foundation to help thousands of Childhood Cancer fighters all over the United States. Sadie was invited back to the White House this year to participate in a Roundtable discussion with the Vice President of the United States, about the Childhood Cancer initiative. Sadie has been seen on Inside Edition, Fox News America's News HQ, Fox News America's Newsroom, Fox News Varney & Co., Fox News with Dana Perino, CNN Situation Room with Wolf Blitzer, NBC Nightly News with Lester Holt, and numerous local television across the country. Sadie is also an incredible artist. She is currently 12 years old and in the 7th grade.
Congressman Michael McCaul is a ranking member of the Foreign Affairs Committee in the U.S. House of Representatives. As the founder of the Congressional Childhood Cancer Caucus, he led the fight for new laws to help the 16,000 children diagnosed with cancer each year, as well as survivors facing the long-term effects of their treatment.
Praise For…
---
"The book is message-driven and is written in an accessible and engaging style. Will resonate with young people who have experienced illness or wish to fight for others." —Kirkus Reviews

"In Better Angels, Sadie Keller shares her inspirational story of confronting cancer with grace, courage and humor. Her vibrant, compelling account reminds us all of the importance of our work in the lab and the clinic to do better for all of our patients. We are proud to join her in Making Cancer History." —Jim Allison, Ph.D., Winner of the Nobel Prize for Medicine and Chair of Immunology at University of Texas MD Anderson Cancer Center 

"This little cancer fighter teaches us all how to see the angels among us. Truly, the must-read story of the year." —Traci Hunter Abramson, bestselling author of Entangled

"Wow, this book is breathtaking. Sadie's tale reminds us all that from tragedy rises humanity and unexpected heroes and heroines. Better Angels is filled with truth and inspiration beyond measure. A must-read for anyone with a pulse. " —David Estes, bestselling author of The Fatemarked Epic

"Nobody wants to think about child cancer, but we can't look away. Our children deserve better. A beautiful, uplifting story about the bravery of one little girl and the angels she met along the way. This fierce, heartbreaking book had me cheering, crying, and ultimately shouting You got this girl! The strength of Sadie Keller, and the children like her, shone through on every page and will stay with you long after you close the book." —Wendy Mills, award-winning author of Positively Beautiful

"Better Angels is so inspiring and deeply personal, you can feel the honesty and emotion coming off the pages." —Amanda Maxlyn, USA Today bestselling author

"This is a book about hope. As a survivor, who courageously endured childhood cancer treatment, Sadie's insights and experience are particularly meaningful. Her work with Congress to help bring cures to children--not just in America but around the world, is compelling." —David G. Poplack, M.D., Professor of Pediatric Oncology, Baylor College of Medicine; Director, Global HOPE, Texas Children's Hospital

"Heart-rending and inspiring. Sadie is a modern day warrior in the battle against pediatric cancer, and her story will leave you hopeful for the future." —Melanie Conklin, author of novels for young readers including Counting Thyme