Patti Smith on Patti Smith: Interviews and Encounters (Musicians in Their Own Words) (Hardcover)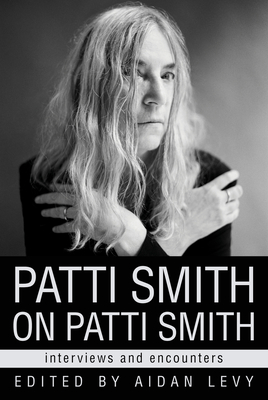 $30.00
On Our Shelves Now. Click on the title to see details.
About the Author
---
Aidan Levy has written for JazzTimes, the New York Times, the Village Voice, and the Nation. He is the author of Dirty Blvd.: The Life and Music of Lou Reed. He is based in New York City and Lancaster, Pennsylvania.
Praise For…
---
"Here is Patti Smith: wise-cracking and meditative; funny and profound; flippant, provocative and wise. What a treat it is to read these interviews, lovingly and expertly curated by Aidan Levy. Fans and scholars alike will drink deep from this collection, which covers every aspect of Patti Smith's artistic life: from her days as an aspiring poet in the early 1970s to the years of alt rock stardom, and from her resurgence as a musician and author in the late 1980s and 1990s to her post-millennial incarnation as a highly respected memoirist, cultural commentator and political activist . . . More now than ever, we would do well to attend to Patti Smith, both on the page and on the record: this collection gives us the artist in full."—Philip Shaw, author of Patti Smith's Horses
"The interviews housed in this book evoke the beautiful arc of Smith's career. From groundbreaking punk pioneer to latter-day disruptor, Levy highlights the importance of her voice not only in performance but also in prose. A comprehensive reference for those wanting to experience Smith on the page if they can't see her on the stage."
—Eric Wendell, author of 
Patti Smith: America's Punk Rock Rhapsodist
"Revealing and poignant moments abound . . .[a] readily devoured addition to the superb Musicians in Their Own Words series. Singer, artist, and writer Smith is an ideal subject."
—
Booklist
"Patti Smith tore through the music world like a dervish in the '70s, quoting Rimbaud, Jagger, and Whitman with equal verve, blowing up gender stereotypes and notions of class while making music that fused high and low culture. She was word obsessed, and Aidan Levy is up to the task of curating those words, via interviews spanning her days as a young, fierce poet, to the serene, post-punk memoirist of today." —Susan Whitall, author of Joni on Joni and Fever: Little Willie John's Fast Life, Mysterious Death and the Birth of Soul
"Aidan Levy has done us all a big favor by brilliantly contextualizing five decades' worth of Patti Smith's outrageous, hilarious, and consistently surprising interviews. Here is a Smith who practically hijacks the interview so she can turn it into a performance, a talk-poem, a shamanic possession, an improvisation as breathtaking as one of Charlie Parker's best. Patti Smith on Patti Smith proves Smith's tough-talking madcap shtick is as good as her Horses." —Daniel Kane, author of Do You Have a Band? Poetry and Punk Rock in New York City
"VERDICT. An illuminating compilation and study of an American artistic treasure. This study is both a finely wrought biographical snapshot and an opportunity to sit in on conversations with one of the sharpest and most provocative minds of our time."
—Library Journal