A Long Day's Evening (Paperback)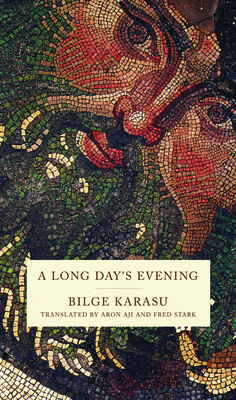 $15.95

NOT on our shelves - Usually Ships in 1-5 Days
Description
---
"One of Turkey's most interesting modern writers."--Booklist
When the Emperor of Byzantium orders the destruction of all religious paintings and icons, Constantinople is thrown into crisis. Fear grips the monastery where Andronikos, a young monk, is thrown into a spiritual crisis. Amidst stirrings of resistance he decides to escape, leaving behind his beloved Ioakim, who must confront his own crisis of faith and decide where to place his allegiance. The dualities of dogma and faith, individual and society, East and West, are embodied in a story of prohibited love and devotion to the unseen.
Bilge Karasu (1930-1995) was born in Istanbul. Often referred to as "the sage of Turkish literature," during his lifetime he published collections of stories, novels and two books of essays.
"The 'other' is usually construed as a person or society removed from 'us' by space. But Karasu has chosen to study his 'other' across the divide of time, pushing readers to compare the profound identity crises engulfing individuals in ancient Byzantium to those in the early Turkish Republic. In doing so, Karasu shows the futility of separating ourselves from 'others'--and the social upheaval that results when we do."--Time Out Istanbul
About the Author
---
Author Bio: Bilge Karasu (1930-1995) was born in Istanbul. Often referred to as "the sage of Turkish literature," he is regarded as the preeminent Turkish modernist writer. During his lifetime, Karasu published collections of short stories, novels and two books of essays. His novel, Night, was published in English translation by Louisiana State University Press in 1994 and was awarded the Pegasus Prize for Literature. City Lights published Death In Troy in 2002, and in 2004 New Directions published The Garden of the Departed Cats.Translator Bios: Aron Aji, a native of Turkey, has translated works by Bilge Karasu, Murathan Mungan, Elif Shafak, and Latife Tekin, including two book-length works by Bilge Karasu: Death in Troy (City Lights, 2002), and The Garden of Departed Cats (New Directions, 2004), which received the 2004 National Translation Award, sponsored by ALTA. Aji is also the recipient of a 2006 National Endowment for the Arts Literature Fellowship for his translation of Karasu's A Long Day's Evening.Fred Stark is an American translator who has resided in Turkey for many years. His translations include works from many of Turkey's most prominent authors, including Bilge Karasu and Murathan Mungan, and he regularly translates commentary and interviews with cultural figures and artists, such as Hale Tenger.
Praise For…
---
From 8th century Constantinople to Istanbul in 1960, Karasu's words travel the temporal distance like a flock of storks, flying to a horizon where history intersects with faith, religious and political, and where memory looks and finds meaning. Only a master can choreograph such a difficult journey . . . and Karasu is one. This is a fascinating novel and a pleasure to read." -- Sinan Antoon, author of I'jaam: An Iraqi Rhapsody