The Truth of Yoga: A Comprehensive Guide to Yoga's History, Texts, Philosophy, and Practices (Paperback)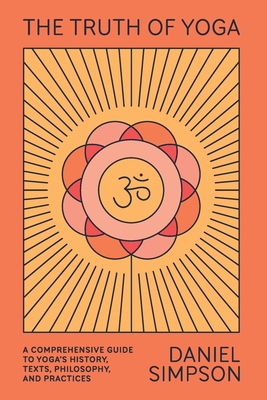 $18.00
On Our Shelves Now. Click on the title to see details.
Description
---
A succinct, approachable guide to the origins, development, key texts, concepts, and practices of yoga.

Yoga is practiced by many millions of people worldwide and is celebrated for its mental, physical, and spiritual benefits. And yet, as Daniel Simpson reveals in The Truth of Yoga, much of what is said about yoga is misleading. For example, the word "yoga" does not always mean union. In fact, in perhaps the discipline's most famous text—the Yoga Sutra of Patanjali—its aim is described as separation: isolating consciousness from everything else. And yoga is not five thousand years old, as is commonly claimed; the earliest evidence of practice dates back about twenty-five hundred years. (Yoga may well be older, but no one can prove it.)

The Truth of Yoga is a clear, concise, and accessible handbook for the lay reader that draws upon abundant recent scholarship. It outlines these new findings with practitioners in mind, highlighting ways to keep traditions alive in the twenty-first century.
About the Author
---
Daniel Simpson teaches at the Oxford Centre for Hindu Studies, in teacher trainings around the UK, and at Triyoga in London. He is a graduate of Cambridge University and has a master's degree from SOAS University of London.
Praise For…
---
"With The Truth of Yoga, Daniel Simpson has written one of the best of the many 'comprehensive guides' to yoga available today. A card-carrying yoga academic, he shares his wealth of knowledge of early, Classical, Hatha, and modern yogas in nearly one hundred, mostly one- and two-page essays, each a compact masterpiece of writing that's both accessible and engaging. Two angushthas up." —Richard Rosen, author of Yoga FAQ: Almost Everything You Need to Know About Yoga—from Asana to Yama

"The Truth of Yoga is a clear, concise, and necessary book that cuts through the myth and misinformation about yoga. Simpson's excellent work is equally useful for the yoga studio, academic classroom, and self-study. It uses the latest research to build a complete guide to the rich history of yoga, its ever-developing practices and philosophies, and offers just the right amount of textual examination to whet the reader's appetite to delve deeper into the literature of the yogic traditions." —Patricia Sauthoff, author of Illness and Immortality: Mantra, Mandala, and Ritual in the Netra Tantra

"The Indian yoga tradition is so abundant that it is impossible to get an all-encompassing understanding of its entirety. In essence, to know yoga is to realize how much one does not know. In this setting, Daniel Simpson offers generous insight into yogic concepts with spirited straight-forwardness and ease while keeping a keen eye on refraining from letting lyrical prose overpower the rich substance of the material itself. In a rare, refreshing and noble manner, Simpson pursues his subject by getting himself out of the way, allowing the thesis of yoga to shine forth in its own light. I find Simpson's book a clear, energizing and quite comprehensive view into yogic thought, all with a multitude of cues and anecdotes for further study for the curious." —Tim Feldmann, co-founder and director, Miami Life Center

"Daniel Simpson weaves effortlessly through the history of yoga, ancient to modern, telling a story that is both compelling and approachable. Simpson clearly has a mastery of the textual sources as well as the histories and traditions of practice that surround them, and he presents all of these dimensions to the earnest student of yoga in deeply engaging prose. This book is a welcome addition to the growing body of literature that takes modern yoga seriously as a feature of the practice's continued transformation." —Anya Foxen, author of Inhaling Spirit: Harmonialism, Orientalism, and the Western Roots of Modern Yoga

"If you are looking for a comprehensive book about yoga beyond asana, then Daniel Simpson's The Truth of Yoga is it! The subject of yoga is vast and he offers tangible bites on topics related to the history, philosophy, and modern manifestations of yoga today in a very accessible and readable way. This book belongs on the shelves of all yoga practitioners, seekers, and philosophical connoisseurs alike." —Sonja Radvila, author of Young Yogi and the Mind Monsters

"Daniel Simpson's 'grand tour' of Yoga succinctly presents state-of-the-art research into the history and ideas of Yoga, from its early mention in the Vedas and Upanisads up into the present teachings of Yoga in India and in Europe and the Americas. Simpson highlights what we can learn about the early practice of Yoga in the Mahabharata and touches on the complexity of its espousal as a self-help technique in the West and as a nationalist call to power in contemporary India. Easy to read and impeccably researched, this book gives a useful overview of the Yoga tradition." —Christopher Key Chapple, Founding Director, Master of Arts in Yoga Studies, Loyola Marymount University, and author of Yoga and the Luminous and Living Landscapes