On Christopher Street: Transgender Stories (Hardcover)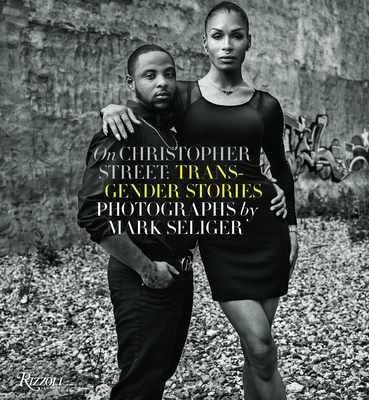 $55.00

If not in stock, we can Special Order from the publisher
Description
---
On Christopher Street there are all kinds of sexual orientations and gender identities, endless possibilities of potential selves: transgender, transsexual, non-binary, genderqueer, femme, butch, cross-dresser, drag kings, drag queens, and many other identities that shift, adapt, and challenge our understanding of gender. This street nestled in the middle of New York City's Greenwich Village is heralded as the birthplace of the modern LGBTQ rights movement. Today, the intersection at Christopher and Hudson Streets has been renamed "Sylvia Rivera Way," after the pioneering trans-activist and the annual LGBTQ pride parade ends its procession on Christopher Street, where the revolution began at the Stonewall Inn.
 
Renowned photographer Mark Seliger, best known for his portraits of celebrities, musicians, and artists, has called the West Village home for nearly two decades. For his latest book, On Christopher Street: Transgender Stories, his curiosity inspired him to shoot a handful of portraits—documentary style—in hopes of capturing the color, flamboyant characters, and theatre of a famous, but vanishing neighborhood.
 
What Seliger discovered was a nightly carnival of personalities that open up the visual discourse about sexuality and the constant ebb and flow of the transgender world we all inhabit today. The end result is a collection of 74 beautiful, black and white portraits, all taken with Seliger's Hasselblad camera, and never-before-published.
 
These forthcoming portraits of trans people on Christopher Street combined with their moving and deeply personal stories remind us of our need for sanctuary, for a space to call our own. Their presence challenges us to redefine home, community, and ownership. Their presence challenges us to stop and reflect. No longer will we remain idle and pass by them in fear and prejudice. We will stand with them, recognize them, and see them. These are our streets, and these are our people. On Christopher Street: Transgender Stories stands out as some of Seliger's most powerful work.
About the Author
---
Mark Seliger was the chief photographer for Rolling Stone for more than ten years. Born in Amarillo, Texas, Seliger now lives and works in New York City, where he contributes to Vanity Fair, GQ, Italian Vogue, L'Uomo Vogue, Time, and more. His work has been exhibited in museums and galleries around the world, and his previous publications include Rizzoli's Listen and In My Stairwell.  Seliger is the recipient of such esteemed awards as the Alfred Eisenstaedt Award, Lucie Award, Clio Grand Prix, Cannes Lions, and ASME. Janet Mock is the New York Times bestselling author of Redefining Realness and host of So POPular!, a weekly MSNBC digital series about culture. She is a sought-after speaker and the founder of #GirlsLikeUs, a social media project that empowers trans women.
Praise For…
---
"It was in the Village, on Christopher Street and the nearby piers, where many trans and queer people first shared space with others like them. For generations, these places provided mirrors for those who rarely saw reflections of themselves. . . Christopher Street is recognized as the birthplace of the modern L.G.B.T. movement. . . Mark Seliger is an award-winning photographer. His new book of photographs, On Christopher Street: Transgender Stories, will be out in October." 
—The New Yorker

"'On Christopher Street: Transgender Stories' is a blend of portraiture as well as the commemoration of the welcoming nature of Christopher Street. . . . Defiant or in repose, these lovely folk are redefining what gender means to people who may be meeting even the idea of transgender for the first time in the pages of Mark Seliger's book. And even Christopher Street, although it is iconic globally, as an idea might be new for someone turning the pages of this book." 
—Edge Media Network

"Consider Christopher Street . . . a collection of 70 portraits by former Rolling Stonechief photographer Mark Seliger. Seliger has lived near Christopher Street, a historic gathering place for the LGBTQ community in New York City, for over two decades and, in that time, has captured a variety of personalities and styles within the local trans community." 
—PublishersWeekly.com Gender Expressions: Transgender Books, 2016

"I've always been intrigued by the life and theater of Christopher Street. I've noticed the photographic possibility out of the corner of my eye for the past couple of decades—an Ellis Island for freedom of expression and gender identity."
—Mark Seliger, New York Observer

"The photographer's collection On Christopher Street features stories about a community that has long found acceptance and solace in the West Village." 
—Vanity Fair

"With 74 spectacular photographs of wonderful people who identify as transgender, transsexual, non-binary, genderqueer, femme, butch, cross-dresser, drag king, or drag queen (as well as other descriptions we may not know), the book provides a unique slice of life in the neighborhood where the LGBT revolution started at the Stonewall Inn." 
—He Said Magazine

"The end result is a collection of 74 beautiful, black and white portraits combined with their moving and deeply personal stories. They will all be included in On Christopher Street: Transgender Stories." 
—Out Magazine

"Seliger has taken it upon himself to capture the diversity and beauty of the transgender community in the West Village in a new photography book, On Christopher Street: Transgender Stories. "Christopher Street has always had a specific theater and tone to it that separated it from the rest of the West Village," said Seliger, . . .  "We've seen it gentrify over the last several years. As the kind of colorful, theatrical world started to shift and vanish, I thought it was important for me to spend some time over there." . . . Seliger approached as many people as he could in an effort to document the street's changing atmosphere. In his subjects, from old to young, singles to couples and families, Seliger found a portrait of our age that won't be forgotten."
—Four Two Nine Magazine