The Last Ocean: Antarctica's Ross Sea Project: Saving the Most Pristine Ecosystem on Earth (Hardcover)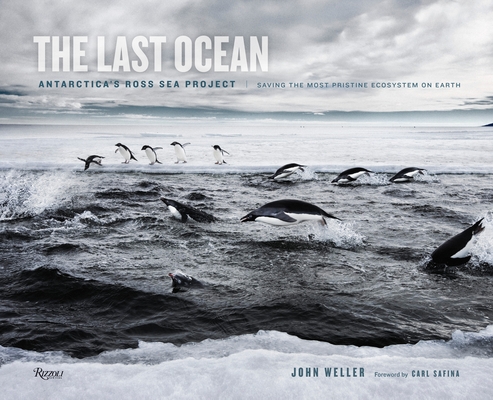 List Price: $50.00
Our Price: $25.00
(Save: $25.00 50%)
Description
---
A stunning collection of oceanic photography documenting the world's last pristine ocean. Due to its remoteness and harsh weather, Antarctica's Ross Sea remained free from human interference until 1996, when commercial fishing discovered it. Now that fishery removes 3,000 tons of fish annually, threatening to destroy the world's last intact ecosystem. The Last Ocean organization started in 2004, joining scientists and environmental groups in a campaign to have the entire Ross Sea designated as an international marine protected area. One of the founding members of The Last Ocean is John Weller, whose photographs from the Ross Sea were collected during four trips to the Antarctic, including a four-month stay at McMurdo and Cape Royds, home of the southernmost penguin colony in the world.

Offering a rare glimpse into life at the edge of the world—from Emperor and Adélie penguins to silverfish, seals, and minke whales—Weller takes the reader on an unprecedented journey above and below the ocean surface. The Last Ocean is more than stunningly beautiful photography. It is a story central to our own: our struggle to sustain a population in a changing climate and with exponentially increasing pressures on world resources.
About the Author
---
John Weller is a critically acclaimed photographer, writer, and filmmaker whose work has appeared in Outdoor Photographer, American Photo, and National Geographic, among other publications. He started The Last Ocean with ecologist Dr. David Ainley in 2004. Carl Safina is founding president of the Blue Ocean Institute at Stony Brook University. Audubon Magazine named him among its "100 Notable Conservationists of the 20th Century."
Praise For…
---
"The Last Ocean uses images as the hook to pull us more deeply into the science, lore and heroic history of [Antarctica]. John Weller is alarmed but never preachy. It helps that he is as fine a writer as he is a photographer. His sometimes lyrical narrative is the perfect companion to his pictures, which capture life on the ice, but also beneath it.

Weller alerts us to a new, growing threat to the Ross Sea, where no commercial fishing had occurred until 1996. What Weller does beautifully is to convey the "known knowns" of his subject, while always reminding us of what is not known, and will not be known until decades or centuries from now. The Ross Sea Project works doggedly to expand the boundaries of that knowledge, as do many other international organizations and individuals. The ultimate solution is to leave these waters alone. Ever the optimist, Weller wants to be able to tell his grandchildren about "the moment when the fishing nations gracefully withdrew their boats" to give nature a chance to restore itself. Its recuperative powers are astonishing, if only we give it a shot.

The world is a careless place. This book will open your eyes, first to the beauty of a world that lies beyond your sight. And more important, to the possibility of sustaining that far-off world that, in turn, sustains us." ~ The New York Times



"Most of us will never see the wildest intact marine ecosystem on earth, Antarctica's Ross Sea. Which is why Boulder, Colorado, photographer and filmmaker John Weller has spent the better part of a decade shooting there, to illustrate what would be lost to warming seas and overfishing. The results of that dedication are out now, in the form of the activist documentary The Last Ocean and a photo book of the same name. The book is worth a spot on your coffee table: a foreword by ecologist Carl Safina adds gravitas, and the photos are urgent and wild." ~Outside Magazine

"The Best Photo Books of The Season: Antarctica's Ross Sea teems with penguins, seals, whales, and Seussian deep-sea creatures who live at the edge of that austerely majestic continent—a world captured in the hallucinatory photos of John Weller, who has devoted himself to saving this last unspoiled ocean from exploitation." ~Elle Magazine

"John Weller, a conservation photographer and founder of Last Ocean, an advocacy group for the conservation of the Ross Sea, has a new photo book, The Last Ocean: Antarctica's Ross Sea Project. It is a visual journey through one of the last pristine ecosystems on Earth—the Ross Sea. Hoping to preserve one of  the most healthy open-ocean ecosystems left on the planet, Weller uses his images to show the stunning beauty of one of the few places still untouched by humankind. The documentary, The Last Ocean also has been released about Weller's work and conservation efforts to protect the Ross Sea." ~The Washington Post

"Weller presents a message that is willfully hopeful, but not naive. He believes that we can change the course of history, and of course we can. We always have, and we do so daily. Let this book be not a memorial, but a signpost on the road to the recovery of the ocean. And of course, a celebration of one of the most beautiful places in the world." ~Carl Safina, author of Song for the Blue Ocean and The View From Lazy Point

"Impassioned by his experiences on the dunes and armed with a new understanding about the necessity of conservation, John was primed to embark on what would turn out to be a decade-long project in defense of one of the last great places on earth. The culmination of his efforts is a new book, The Last Ocean…He says, "The Ross Sea story is not just about a fish, or the incredible organisms that live in the edge of the world. This is our story—the story of our struggle to become sustainable…" ~Outdoor Photographer

"At the edge of Antarctica, shielded by great expanses of thick sea ice, the Ross Sea is one of the coldest, remotest and most inhospitable places on earth. Yet it is also one of the planet's last relatively untouched ecosystems, sheltering large numbers of Adélie and Emperor penguins, Weddell seals, orcas, minke whales and other creatures. All that began to change in 1996, when commercial fishing fleets started harvesting Antarctic toothfish from the frigid, nutrient-rich waters at the bottom of the world. Weller, an accomplished photographer and writer, co-founded the Last Ocean Project in response, an organization devoted to protecting the Ross Sea as a pristine nature reserve. This book documents his research trips to the region in soulful, meditative prose and haunting, otherworldly imagery." ~Scientific American