Hegel, Haiti, and Universal History (Pitt Illuminations) (Paperback)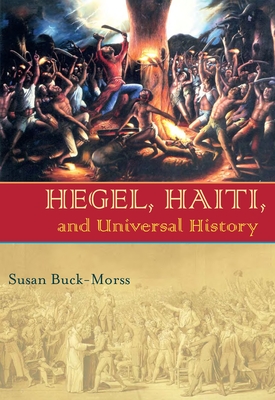 $40.96

If not in stock, we can Special Order from the publisher
Description
---
In this path-breaking work, Susan Buck-Morss draws new connections between history, inequality, social conflict, and human emancipation.  Hegel, Haiti, and Universal History offers a fundamental reinterpretation of Hegel's master-slave dialectic and points to a way forward to free critical theoretical practice from the prison-house of its own debates. 

Historicizing the thought of Georg Wilhelm Friedrich Hegel and the actions taken in the Haitian Revolution, Buck-Morss examines the startling connections between the two and challenges us to widen the boundaries of our historical imagination. She finds that it is in the discontinuities of historical flow, the edges of human experience, and the unexpected linkages between cultures that the possibility to transcend limits is discovered. It is these flashes of clarity that open the potential for understanding in spite of cultural differences.  What Buck-Morss proposes amounts to a "new humanism," one that goes beyond the usual ideological implications of such a phrase to embrace a radical neutrality that insists on the permeability of the space between opposing sides and as it reaches for a common humanity. 
About the Author
---
Susan Buck-Morss is Jan Rock Zubrow '77 Chair of Social Sciences, and professor of political philosophy and social theory in the department of government at Cornell University. She is the author of Thinking Past Terror: Islamism and Critical Theory on the Left, Dreamworld and Catastrophe: The Passing of Mass Utopia in East and West, The Dialectics of Seeing: Walter Benjamin and the Arcades Project, and The Origin of Negative Dialectics: Theodor W. Adorno, Walter Benjamin, and the Frankfurt Institute.
Praise For…
---
"Hegel, Haiti, and Universal History packs a powerful punch. Its strength lies in the development of a specific claim in the history of philosophy into a general theme concerning universality and politics."
--Bookforum
"This brief review cannot do justice to the many ways [Buck-Morss'] provocative and beautifully written book forces us to reexamine our academic labors. Buck-Morss also deserves praise for placing the Haitian Revolution firmly at the center of modernity—and insisting that scholars in many fields contemplate its lessons."
—The Americas
"Susan Buck-Morss provides a decisive reframing of Hegel in this wonderful book. The supposed idealist becomes a hard-headed realist whose concepts are formed while reading the morning newspapers. The idea of emancipation from slavery is itself emancipated from a model of noblesse oblige to one of struggle, risk, and sacrifice on the part of the slave. This is a thoroughly brilliant scholarly work that turns Hegel upside down in a new way, revealing this time that he was always already standing on his head."
—W. J. T. Mitchell, University of Chicago
"Few books . . . contain as much fascinating material, new interpretations, intriguing possibilities and intellectual stimulation."
—Marx and Philosophy Review of Books
"Among the most innovative and stiumlating critical assessments of the Haitian Revolution."
—New West Indian Guide
"A revelation, on both scholarly and performative levels. . . .  Among the most innovative and stimulating critical assessments of the Haitian Revolution."
—New West Indian Guide
"A provocative book and one that will be of interest to scholars in the field of race AND philosophy."
—Black Cultural Studies