Mobile Cultures: New Media in Queer Asia (Console-Ing Passions) (Paperback)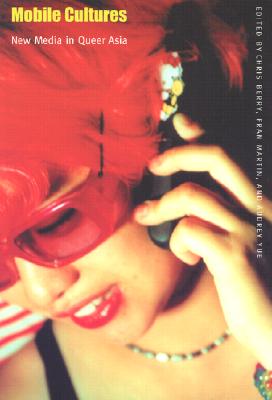 $37.06

NOT on our shelves - Usually Ships in 1-5 Days
Description
---
Mobile Cultures
provides much-needed, empirically grounded studies of the connections between new media technologies, the globalization of sexual cultures, and the rise of queer Asia. The availability and use of new media-fax machines, mobile phones, the Internet, electronic message boards, pagers, and global television-have grown exponentially in Asia over the past decade. This explosion of information technology has sparked a revolution, transforming lives and lifestyles, enabling the creation of communities and the expression of sexual identities in a region notorious for the regulation of both information and sexual conduct. Whether looking at the hanging of toy cartoon characters like "Hello Kitty" from mobile phones to signify queer identity in Japan or at the development of queer identities in Indonesia or Singapore, the essays collected here emphasize the enormous variance in the appeal and uses of new media from one locale to another.
Scholars, artists, and activists from a range of countries, the contributors chronicle the different ways new media galvanize Asian queer communities in Taiwan, South Korea, Japan, Indonesia, Thailand, Malaysia, India, and around the world. They consider phenomena such as the uses of the Internet among gay, lesbian, or queer individuals in Taiwan and South Korea; the international popularization of Japanese queer pop culture products such as Yaoi manga; and a Thai website's reading of a scientific tract on gay genetics in light of Buddhist beliefs. Essays also explore the politically subversive possibilities opened up by the proliferation of media technologies, examining, for instance, the use of Cyberjaya-Malaysia's government-backed online portal-to form online communities in the face of strict antigay laws.
Contributors. Chris Berry, Tom Boellstorff, Larissa Hjorth, Katrien Jacobs, Olivia Khoo, Fran Martin, Mark McLelland, David Mullaly, Baden Offord, Sandip Roy, Veruska Sabucco, Audrey Yue
About the Author
---
Chris Berry is Associate Professor in Film Studies at the University of California, Berkeley. He is author of A Bit on the Side: East-West Topographies of Desire and editor of several books including Memoirs from the Beijing Film Academy: The Genesis of China's Fifth Generation, published by Duke University Press.Fran Martin is Lecturer in the Cinema Studies Program at La Trobe University in Australia.Audrey Yue is Lecturer in the Cultural Studies Program and Department of English at the University of Melbourne in Australia.