Southern Wonder: Alabama's Surprising Biodiversity (Hardcover)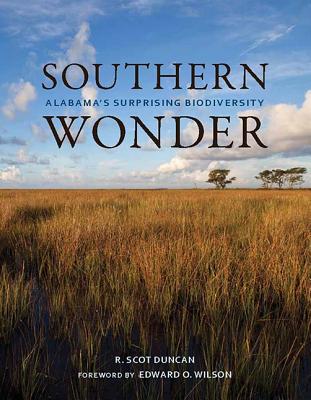 $39.95

If not in stock, we can Special Order from the publisher
Description
---
Southern Wonder explores Alabama's amazing biological diversity, the reasons for the large number of species in the state, and the importance of their preservation.

Alabama ranks fifth in the nation in number of species of plants and animals found in the state, surpassed only by the much larger western states of California,Texas, Arizona, and New Mexico. When all the species of birds, trees, mammals, reptiles, amphibians, fishes, wildflowers, dragonflies, tiger beetles, and ants are tallied, Alabama harbors more species than 90 percent of the other states in the United States. Alabamais particularly rich in aquatic biodiversity, leading the nation in species of freshwater fishes, turtles, mussels, crayfish, snails, damselflies, and carnivorous plants. The state also hosts an exceptional number of endemic species—those not found beyond its borders—ranking seventh in the nation with 144 species. The state's 4,533 species, with more being inventoried and discovered each year, are supported by no less than 64 distinct ecological systems—each a unique blend of soil, water, sunlight, heat, and natural disturbance regimes. Habitats include dry forests, moist forests, swamp forests, sunny prairies, grassy barrens, scorching glades, rolling dunes, and bogs filled with pitcher plants and sundews. The state also includes a region of subterranean ecosystems that are more elaborate and species rich than any other place on the continent.

Although Alabama is teeming with life, the state's prominence as a refuge for plants and animals is poorly appreciated. Even among Alabama's citizens, few outside a small circle of biologists, advocates, and other naturalists understand the special quality of the state's natural heritage. R. Scot Duncan rectifies this situation in Southern Wonder by providing a well-written, comprehensive overview that the general public, policy makers, and teachers can understand and use. Readers are taken on an exploratory journey of the state's varied landscapes—from the Tennessee River Valley to the coastal dunes—and are introduced to remarkable species, such as the cave salamander and the beach mouse. By interweaving the disciplines of ecology, evolution, meteorology, and geology into an accessible whole, Duncan explains clearly why Alabama is so biotically rich and champions efforts for its careful preservation.

Published in Cooperation with The Nature Conservancy
About the Author
---
R. Scot Duncan is associate professor of biology and urban environmental studies at Birmingham-Southern College.
Praise For…
---
"In this 'surprising' book (to quote the subtitle), Duncan (Birmingham-Southern College) tells stories to 'excite the 10-year-old in all of us.' He lapses into jargon infrequently but only because of the ubiquity of some terms (e.g., r-selected) at the college level. The surprise comes from the high-quality photographs (134 in full color), the easy, breezy writing style, and the rigor of this volume. Somehow Duncan incorporates 665 citations and website links (many of them from Alabama) into accessible flowing prose. He covers all habitats, many fish and mammals (plus a few birds), but sadly no insects. Readers will truly realize the book's scope when they encounter the extensive index with 1,700 entries, 8 pages of chapter notes, and a 46-page reference section at the end. This extensive scholarly apparatus makes it a valuable academic work. Southern Wonder is a must buy for libraries in Alabama and a should buy for any library serving students in North American natural history courses. Summing Up: Highly recommended. All readership levels."
—
CHOICE
"Scot Duncan has delivered one of the most important books ever written about Alabama. Beautifully composed, it is a revelation about one of the most biologically diverse regions in North America and a call to Alabama's people to treasure and protect the state's living heritage."
—Edward O. Wilson, Pulitzer Prize–winning author of 
The Social Conquest of Earth
"This book covers almost every nook of biodiversity in the state. It is well-thought-out and delivered. The organization makes it easy for both lay and experienced readers of scientific knowledge to become enthralled in the subject matter."
—T . Wayne Barger, State Botanist, Alabama Department of Conservation and Natural Resources
"
Southern Wonder
is an amazing and eye-opening book, comprehensive enough to be a field guide as well as a doorway to the natural world."
—Rick Montague, in awarding the 2014 Philip D. Reed Environmental Writing Award from the Southern Environmental Law Center