Eating Fire: My Life as a Lesbian Avenger (Paperback)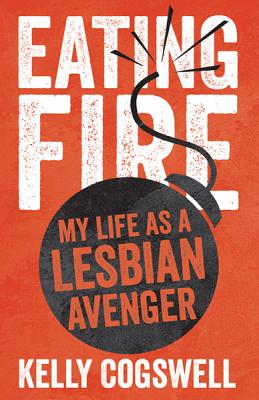 $19.95

If not in stock, we can Special Order from the publisher
Description
---

When Kelly Cogswell plunged into New York's East Village in 1992, she had just come out. An ex–Southern Baptist born in Kentucky, she was camping in an Avenue B loft, scribbling poems, and playing in an underground band, trying to figure out her next move. A couple of months later she was consumed by the Lesbian Avengers, instigating direct action campaigns, battling cops on Fifth Avenue, mobilizing 20,000 dykes for a march on Washington, D.C., and eating fire—literally—in front of the White House.
At once streetwise and wistful, Eating Fire is a witty and urgent coming-of-age memoir spanning two decades, from the Culture War of the early 1990s to the War on Terror. Cogswell's story is an engaging blend of picaresque adventure, how-to activist handbook, and rigorous inquiry into questions of identity, resistance, and citizenship. It is also a compelling, personal recollection of friendships and fallings-out and of finding true love—several times over. After the Lesbian Avengers imploded, Cogswell describes how she became a pioneering citizen journalist, cofounding the Gully online magazine with the groundbreaking goal of offering "queer views on everything."

The first in-depth account of the influential Lesbian Avengers, Eating Fire reveals the group's relationship to the queer art and activist scene in early '90s New York and establishes the media-savvy Avengers as an important precursor to groups such as Occupy Wall Street and La Barbe, in France. A rare insider's look at the process and perils of street activism, Kelly Cogswell's memoir is an uncompromising and ultimately empowering story of creative resistance against hatred and injustice.
About the Author
---
Kelly Cogswell is an independent journalist and blogger. She has been recognized by the New York Press Association for her regular column in New York's Gay City News and is a recipient of a Joan Heller–Diane Bernard Fellowship for her project documenting the Lesbian Avengers.
Praise For…
---
"To have a volume about lesbian activism that focuses on the most effective, most publicized and controversial group, the Lesbian Avengers, is almost too good to be true. Eating Fire is an intimate activist handbook that offers a generous 'us' and we can happily enter the space of it from so many angles." —Eileen Myles, author of Inferno (A Poet's Novel)

"Activist histories of social movements are rare yet essential to understanding how social change actually happens. Stories of lesbian activism are even harder to find. This unique, evocative, and fascinating memoir tells both a personal and a community story of creativity, political commitment, grief, and the love that motivates it all." —Urvashi Vaid, author of
Irresistible Revolution: Confronting Race, Class and the Assumptions of LGBT Politics
"This free wheeling memoir of lesbian activism —alternately funny and raucous, meditative and reflective—is a document of a specific time and place. But it is also a marvelous, timeless tale of wit, survival, determination, and ultimately facing history. Veering between
Portrait of the Artist as a Young Dyke
and
Rebel Without a Pause
, Cogswell's memoir of the Lesbian Avengers is incisive, politically astute, and a much needed addition to LGBT history." —Michael Bronski, Harvard University
"Although the Lesbian Avengers have been defunct since 1995, Cogswell's idealistic objective in the fight for civil rights is still relevant: to make lesbians visible, change society, and most importantly, change lesbians, who will come to see the public space as theirs." —
Kirkus Reviews
"
Gay City News
columnist Cogswell's memoir (as much a cultural as personal history) is a needed addition to this focus [on queer activism from the early 1990s], highlighting the understudied path of the international force, the Lesbian Avengers. Fast-paced and reminiscent of New Narrative, there's a lot of instructive joy to be found with a mixture of performance and protest fueling the prose. . . this memoir shines as surely as its history needs telling." —
Publishers Weekly
"
Eating Fire
is a sometimes entertaining, sometimes painful read. It recounts an important chapter in queer history along with some useful principles of direct action." —
Gay City News
"
Eating Fire
is a reminder, an homage, a call to rally, and a plea to this generation of queer women. While this story is tenacious in some moments and vulnerable in others, it is always triumphant. Inspiring and absolutely heroic. This story belongs to us all." —
Lambda Literary
"Reading Cogswell's account is also to read an object study in not only the exciting birth and life of such groups, but also the flipside, which is their painful decline and fall. [Her] book most powerfully reminds you of the necessary mess of activism." —
The Daily Beast
"An energetic and outspoken memoir." —
Booklist
"She waxes nostalgic for the radicalism of the era, and like many of her contemporaries, laments the gay rights movement's embrace of conservative mainstream ideals. Cogswell says she's 'burned out' on activism, but her book is filled with longing for the sound of protest and the taste of fire." —
Huffington Post
"Cogswell's nonlinear, adrenaline-fueled narrative captures the energy behind the Avengers' creative and media-savvy actions." —
Bitch