Crossing the Barriers: The Autobiography of Allan H. Spear (Hardcover)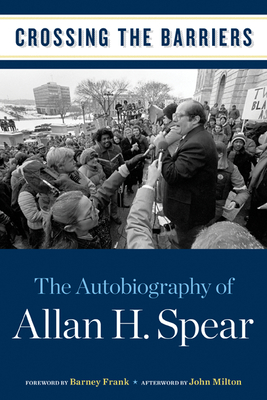 $34.95

If not in stock, we can Special Order from the publisher
Description
---
Allan Spear had a long and distinguished career as a historian and as a Minnesota state senator. Perhaps best known for coming out as openly gay during his first term in the Minnesota Senate-becoming one of the first elected officials in the nation to do so-Spear was also a leader of Eugene McCarthy's run for the presidency, an organizer against the war in Vietnam, and a key proponent for the establishment of the African-American studies department at the University of Minnesota.
Spear's memoirs are fascinating and moving: in early chapters on his childhood and college years, he writes with great introspection about his growing self-awareness of being gay. Later he writes about his development as an intellectual, particularly as a white man fighting to win legitimacy for the study of African-American history and culture. During his time at the University of Minnesota, Spear became deeply involved with the Minnesota Democratic-Farmer-Labor Party (DFL) and the antiwar movement. At the same time, Spear became increasingly active in the emerging gay rights movement and began the process of coming out to his friends and colleagues.
After a failed run for the Minnesota House in 1968, Spear was elected to the Minnesota Senate in 1972 and served as Senate president from 1993-2000. In 1993, he was instrumental in the passage of the Minnesota Human Rights Act, which protected LGBT people from discrimination in housing, education, and employment-an achievement he considered one of the finest of his career. A skilled parliamentarian, he remained a progressive leader in the legislature until his retirement in 2000.
Spear passed away on October 11, 2008, leaving his memoir slightly incomplete. A stirring afterword by John Milton completes the story of Spear's life, chronicling the recognition of his accomplishments as a politician and activist during his final years.
About the Author
---
Allan H. Spear (1937-2008) was a historian at the University of Minnesota and the author of the groundbreaking book Black Chicago. A native of Michigan City, Indiana, he served nearly thirty years in the Minnesota Senate.
Barney Frank is the U.S. Representative for Massachusetts's Fourth Congressional District.
John Milton was elected to the Minnesota Senate in 1972 and 1976 where he was a colleague of Allan Spear.
Praise For…
---
"Crossing the Barriers reveals in intimate detail the social, political, and personal evolution of an exceptional man in transformative times. Allan Spear's autobiography paints a vivid picture of the history he lived…and the history he made. Allan was a devoted son and partner, a gifted teacher, astute politician, skillful legislator, cherished friend and mentor, and a role model for all of us who wish to pursue the career of our dreams and be honest about who we are." —U.S. RepresentativeTammy Baldwin
"I join with all Minnesotans who mourn the loss of Allan Spear. His evenhandedness, command of the issues, and ability to reach across the aisle and work with colleagues of both parties were legendary and should inspire us all. He was a man of great courage who served as one of this nation's first openly gay legislators." —Senator Barack Obama, October 2008
"Spear's autobiography is a must-read for anyone interested in Minnesota politics, civil rights, and the gay rights movement. Vivid imagery and remarkable detail bring the story of this iconic man and his times alive. The book also holds a few surprises, especially for those who remember Spear primarily as a politically savvy state senator and gay rights icon. The reader is left wanting to hear more." —Minnesota Magazine