Beyond the Public Sphere: Film and the Feminist Imaginary (Paperback)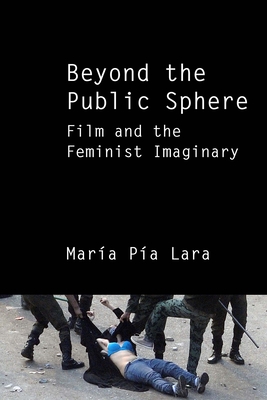 $44.74
NOT on our shelves - Usually Ships in 1-5 Days
Description
---
In Beyond the Public Sphere: Film and the Feminist Imaginary, the renowned philosopher and critical theorist María Pía Lara challenges the notion that the bourgeois public sphere is the most important informal institution between social and political actors and the state.
Drawing on a wide range of films—including The Milk of Sorrow, Ixcanul, Wadja, The Stone of Patience, Marnie, A Streetcar Named Desire, and Talk to Her—Lara dissects cinematic images of women's struggles and their oppression. She builds on this analysis, developing a concept of the feminist social imaginary as a broader and more complex space that provides a way of thinking through the possibilities for emancipatory social transformation in response to forms of domination perpetuated by patriarchal capitalism.
About the Author
---
MARÍA PÍA LARA is a professor of moral and political philosophy at the Universidad Autónoma Metropolitana in Mexico City. She is the author of a number of books, including Moral Textures: Feminist Narratives in the Public Sphere, Narrating Evil: A Postmetaphysical Theory of Reflective Judgment, and The Disclosure of Politics: Struggles Over the Semantics of Secularization.
Praise For…
---
"María Pía Lara's magnificent book brings an urgent new perspective into old debates about the public sphere: by exploring the potential of the current cinematic imagination, she discloses powerful new tools for feminist critique. A must-read." —Chiara Bottici, author of A Philosophy of Political Myth 

"Beyond the Public Sphere offers a highly original conceptualization of the feminist cinematic imaginary as a way of thinking through the possibilities for emancipatory social transformation in response to the forms of domination perpetuated by patriarchal capitalism. By foregrounding issues of gender subordination and sexual violence, Lara's book shows brilliantly how critical theory of the Frankfurt School tradition can speak to the political paradoxes and challenges of the #MeToo era." —Amy Allen, author of The End of Progress: Decolonizing the Normative Foundations of Critical Theory

"Fighting domination and promoting emancipation is not only a matter of norms and arguments but also of powerful images, creative metaphors and the bold imagination of different lives and other spaces. Reconstructing and recovering an important but often neglected thematic strand in Critical Social Theory and Feminist Philosophy, María Pía Lara powerfully advances and exemplifies a view of political and social struggles that highlights the decisive role of images and the imagination." —Martin Saar, author of The Immanence of Power: Political Theory After/According to Spinoza