Dawn: A Novel (Paperback)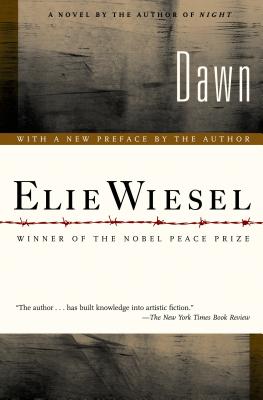 List Price: $12.00
Our Price: $6.00
(Save: $6.00 50%)
Description
---
Elie Wiesel's Dawn is an eloquent meditation on the compromises, justifications, and sacrifices that human beings make when they murder other human beings.

"The author . . . has built knowledge into artistic fiction." —The New York Times Book Review

Elisha is a young Jewish man, a Holocaust survivor, and an Israeli freedom fighter in British-controlled Palestine; John Dawson is the captured English officer he will murder at dawn in retribution for the British execution of a fellow freedom fighter. The night-long wait for morning and death provides Dawn, Elie Wiesel's ever more timely novel, with its harrowingly taut, hour-by-hour narrative. Caught between the manifold horrors of the past and the troubling dilemmas of the present, Elisha wrestles with guilt, ghosts, and ultimately God as he waits for the appointed hour and his act of assassination.

The basis for the 2014 film of the same name, now available on streaming and home video.
About the Author
---
Elie Wiesel (1928-2016) is the author of more than fifty books, including Night, his harrowing account of his experiences in Nazi concentration camps. The book, first published in 1955, was selected for Oprah's Book Club in 2006, and continues to be an important reminder of man's capacity for inhumanity. Wiesel was Andrew W. Mellon Professor in the Humanities at Boston University, and lived with his family in New York City. He was awarded the Nobel Peace Prize in 1986.
Praise For…
---
"The anguish and loss of the moral Jew who has placed himself on the other side of the gun" —Commentary

"Shines gemlike with delicate writing," —Saturday Review