Mexican Americans/American Mexicans: From Conquistadors to Chicanos (Paperback)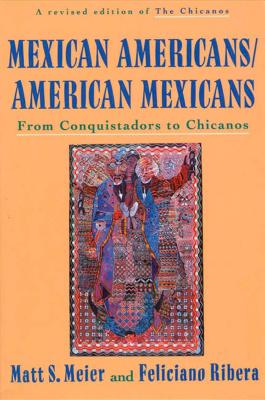 $19.00

If not in stock, we can Special Order from the publisher
Description
---
In the years since the first edition of this important study was published, the changes in the Mexican American community in the United States have been great indeed. This extensively revised edition-with a new title-includes expanded chapters on these new developments of the recent past: the Chicano Movimiento of the late sixties and seventies; their considerable political and economic achievements; improvements in immigration law; the creative explosion in literature and the fine arts; the increased role of Chicanas; the rise and decline of four great leaders-César Chávez, "Corky" Gonzales, Reies López Tijerina, and José Angel Gutiérrez. An extensive account of the pre-Columbian world and the impact of the early Spanish explorers and settlers takes note of new findings and interpretations.
About the Author
---
Matt S. Meier taught history at Santa Clara University.
Feliciano Ribera
is professor of history at San Jose State University.
Praise For…
---
"Clear, balanced, and brief, this is the book of choice." —David J. Weber, Southern Methodist University

"Mexican Americans/American Mexicans is the most coherent and useful text in Chicano history." —Mario T. Garcia, University of California, Santa Barbara

"Meier and Ribera have freshly updated their classic The Chicanos, and now offer a highly readable and balanced introduction to a complex and important topic. Mexican Americans/American Mexicans should be especially welcome in the classroom.." —James A. Sandos, University of Redlands