When Time Is Short: Finding Our Way in the Anthropocene (Hardcover)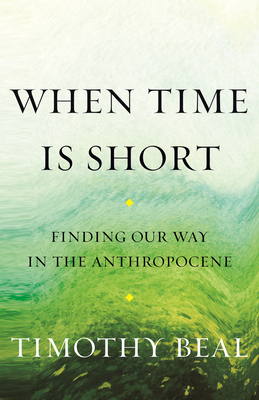 $23.95

On Our Shelves Now. Click on the title to see details.
Description
---
With faith, hope, and compassion, acclaimed religion scholar Timothy Beal shows us how to navigate the inevitabilities of the climate crisis and the very real—and very near—possibility of human extinction

What if it's too late to save ourselves from climate crisis? When Time is Short is a meditation for what may be a finite human future that asks how we got here to help us imagine a different relationship to the natural world.

Modern capitalism, as it emerged, drew heavily upon the Christian belief in human exceptionalism and dominion over the planet, and these ideas still undergird our largely secular society. They justified the pillaging and eradication of indigenous communities and plundering the Earth's resources in pursuit of capital and lands.

But these aren't the only models available to us—and they aren't even the only models to be found in biblical tradition. Beal re-reads key texts to anchor us in other ways of being—in humbler conceptions of humans as earth creatures, bound in ecological interdependence with the world, subjected to its larger reality. Acknowledging that any real hope must first face and grieve the realities of climate crisis, Beal makes space for us to imagine new possibilities and rediscover ancient ones. What matters most when time becomes short, he reminds us, is always what matters most.
About the Author
---
Timothy Beal is Distinguished University Professor and Florence Harkness Professor of Religion at Case Western Reserve University. He has published essays on religion and culture for The New York Times, The Chronicle of Higher Education, The Wall Street Journal, CNN.com, and The Washington Post, and is the author of several books including Roadside Religion and The Rise and Fall of the Bible.
Praise For…
---
"The novel exegesis and a nature-first perspective make for an original Christian take on climate change, and Beal's reflections on mortality and extinction are powerful and moving ("What matters most when time becomes short is always what matters most"). Touching and sagacious, this elegiac meditation will enlighten."
—Publishers Weekly

"Beal's book is a critical contribution to the conversation we must have as ecological disasters surround us. It is not a book of acquiescence but a humble call to live and act on a properly human, creaturely scale."
—Ragan Sutterfield, Sojourners

"In this timely book, Timothy Beal invites us to face our collective human finitude. And it guides us to re-encounter biblical sources to find language that allows us to touch our 'precarious wonder.' This is a beautiful, courageous, and profound engagement with the most important questions of our times."
—Mayra Rivera, author of The Touch of Transcendence and president of the American Academy of Religion

"Tim Beal is unmistakably among our most discerning public intellectuals, capable of both penetrating critical thought and generative imagination. When Time Is Short is in part a realistic requiem for a long-running indulgent cultural past; in part, it is an honest analysis of our persistent Promethean seduction and, in part, a manifesto for modest hope for responsible courageous living. Honest and hope-filled, it merits wide and sustained attention."
—Walter Brueggemann, author of Sabbath as Resistance

"Timothy Beal's encouragement for us to accept our death as a species, through rereadings of biblical texts warped by modern capitalism, invites a deeper understanding of ecological interdependence and the instructive power of grief. This deeply spiritual text is much needed."
—Emily Raboteau, author of Searching for Zion: The Quest for Home in the African Diaspora

"This book is a poem for the end-times. Beal provokes us to confront the omnicide around us and our finitude as a species. Yet he also offers a palliative vision of care: how to alleviate suffering and find hope, even in the darkest of times."
—Kate Crawford, author of Atlas of AI: Power, Politics, and the Planetary Costs of Artificial Intelligence