Caged Eyes: An Air Force Cadet's Story of Rape and Resilience (Paperback)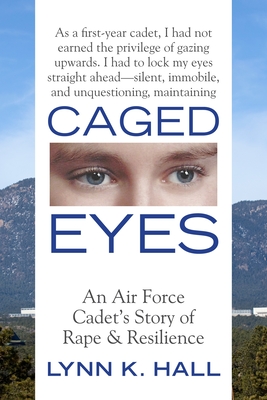 List Price: $16.00
Our Price: $8.00
(Save: $8.00 50%)
On Our Shelves Now. Click on the title to see details.
Description
---
An insider's account of misogyny and rape in the US military and her extraordinary path to recovery and activism

Desperate to realize her childhood dream of being an astronaut, Lynn K. Hall was an enthusiastic young cadet. For Hall, the military offered an escape from her chaotic home—her erratic mother, absent biological father, and a man she called "dad" who sexually abused her. Resolute and committed to the Air Force Academy, Hall survived the ordeals of a first-year cadet: intense hazing from upperclassmen, grueling physical training, and demanding coursework. But she's dismissed from the Academy when, after being raped by an upperclassman and contracting herpes, she is diagnosed with meningitis and left with chronic and debilitating pain.

Betrayed by the Academy and overcome with shame, Hall candidly recounts her loss of self, the dissociation from her body and the forfeiture of her individuality as a result of the military's demands and her perpetrator's abuse. Forced to leave the military and return to the civilian world, Hall turns to extreme sports to cope with and overcome PTSD and chronic pain. She, in turn, reclaims herself on the mountain trails of the Colorado Rockies.

An intimate account of grappling with shame and a misogynistic culture that condones rape and blames victims, Caged Eyes is also a transformative story of how it's possible to help yourself and others in the aftermath of a profound injustice.
About the Author
---
Lynn Hall is a memoirist, essayist, and activist in the movement to end sexual violence. She is also a mountaineer who has summited each of Colorado's 14,000-foot-tall peaks and a runner who has completed a 100-mile ultramarathon. She lives in Boulder.
Praise For…
---
"Hall opens a window onto sexual assault in general and the effect it has immediately and years, even decades, afterward...Hall allows them to truly understand how victims internalize the worst accusations of the culture around them and the monumental effort needed to combat their own self-doubt...a deeper understanding of an important issue."
—Kirkus Reviews

"Told in compelling, honest prose, Caged Eyes is both an exposé of the horrifying misogyny and rape culture within the US military and a memoir of extraordinary resilience and triumph."
—Helen Benedict, author of The Lonely Soldier and Sand Queen

"Lynn Hall is a powerful writer who tells an epic story. She vividly captures what it means to be raped by a fellow cadet—someone she considered family. She brings to life in a deeply personal way the double betrayal. First she was assaulted by a friend, and then she was silenced by an institution she loved, one which proved sadly incapable of enacting true justice. Hall is an incredibly resilient human being and this is a spectacular book about finding one's voice and speaking out about injustice."
—Helen Thorpe, author of Soldier Girls: The Battles of Three Women at Home and at War

"Brave, direct, and unflinching, Hall portrays, with compelling detail, the battle that women fight against sexual violence. Her story is heartbreaking, but also honest and inspiring. Her powerful voice makes this an absolutely necessary book, addressing a critically important issue."
—Sue William Silverman, author of Because I Remember Terror, Father, I Remember You

"Caged Eyes is an incredible story of a young woman's odyssey. As Lynn Hall seeks to fulfill her dream to fly, she confronts unspeakable familial and health roadblocks due to sexual abuse first at home and later while a student in the Air Force Academy. Hall's story confronts us with a modern-day pilgrim's progress through the sometimes torturous path of growing up female in a man's world. Due to her resilience and the love of friends, this is ultimately a tale of resurrection and hope for women struggling for sexual equality."
—Peggy Sanday, author of Fraternity Gang Rape: Sex, Brotherhood, and Privilege on Campus

"As a vulnerable young woman, Lynn Hall encountered a succession of men, and then a prestigious institution, that not only abused her but tried to coerce her into silence. But they did not succeed. This beautiful and inspiring memoir represents the triumph of her voice—and by extension that of countless other victims and survivors—over the actions and inactions of perpetrators and bystanders who might have been able to inflict pain, but who could never hold a candle to her strength of character and moral integrity."
—Jackson Katz, Ph.D. co-founder of Mentors in Violence Prevention, the first system-wide gender violence prevention program in the U.S. military, and author of The Macho Paradox: Why Some Men Hurt Women and How all Men Can Help