"M" is for Malice: A Kinsey Millhone Novel (Kinsey Millhone Alphabet Mysteries #13) (Hardcover)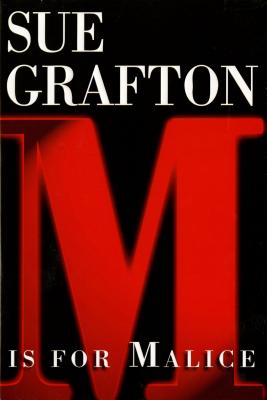 $36.00

NOT on our shelves - Usually Ships in 1-5 Days
Other Books in Series
This is book number 13 in the Kinsey Millhone Alphabet Mysteries series.
Description
---
Brace yourself for an "Electrifying and thoroughly satisfying" read (Publishers Weekly) from #1 New York Times bestselling author Sue Grafton

"M" is for money. Lots of it. "M" is for Malek Construction, the $40 million company that grew out of modest soil to become one of the big three in California construction, one of the few still in family hands.

"M" is for the Malek family: four sons now nearing middle age who stand to inherit a fortune--four men with very different outlooks, temperaments, and needs, linked only by blood and money. Eighteen years ago, one of them--angry, troubled, and in trouble--went missing.

"M" is for Millhone, hired to trace that missing black sheep brother.

"M" is for memories, none of them happy. The bitter memories of an embattled family. This prodigal son will find no welcome at his family's table. "M" is for malice.

And in brutal consequence, "M" is for murder, the all-too-common outcome of familial hatreds.

"M" is for malice . . . and malice kills.


"A" Is for Alibi
"B" Is for Burglar
"C" Is for Corpse
"D" Is for Deadbeat
"E" Is for Evidence
"F" Is for Fugitive
"G" Is for Gumshoe
"H" Is for Homicide
"I" Is for Innocent
"J" Is for Judgment
"K" Is for Killer
"L" is for Lawless
"M" Is for Malice
"N" Is for Noose
"O" Is for Outlaw
"P" Is for Peril
"Q" Is for Quarry
"R" Is for Ricochet
"S" Is for Silence
"T" Is for Trespass
"U" Is for Undertow
"V" Is for Vengeance
"W" Is for Wasted
"X"
About the Author
---
#1 New York Times bestselling author Sue Grafton (1940-2017) entered the mystery field in 1982 with the publication of 'A' Is for Alibi, which introduced female hard-boiled private investigator, Kinsey Millhone, operating out of the fictional town of Santa Teresa, (aka Santa Barbara) California, and launched the bestselling Kinsey Millhone Alphabet Mysteries. In addition to her books, she published several Kinsey Millhone short stories, and with her husband, Steven Humphrey, wrote numerous movies for television, including "A Killer in the Family" (starring Robert Mitchum), "Love on the Run" (starring Alec Baldwin and Stephanie Zimbalist) and two Agatha Christie adaptations, "Sparkling Cyanide" and "Caribbean Mystery," which starred Helen Hayes. Grafton is published in 28 countries and in 26 languages.
Praise For…
---
"Grafton works with a cinematic eye, possessing a keen visual sense of detail, color, and style. The pace is fast, the crime difficult to solve." —People

"Wit is the most versatile weapon in Sue Grafton's well-stocked arsenal, and she uses it with disarming precision." —Newsweek

"Unlike many detective series, Grafton's seems only to get better each time out." —Entertainment Weekly

"Grafton has moved the private-eye story closer to real life than did either Hammett or Chandler." —Los Angeles Times Book Review

"Book for book, this may be the most satisfying mystery series going." —the Wall Street Journal

"Grafton has taken over Ross Macdonald's shoes." —the Boston Globe