Search for Books
ABA Mobile Menu
The Most Beautiful Man in the World: Paul Swan, from Wilde to Warhol (Hardcover)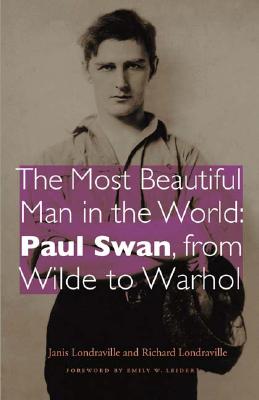 Description
---
When Andy Warhol cast Paul Swan (1883–1972) in three films in the mid-1960s, he knew that the octogenarian had once been internationally hailed as "the most beautiful man in the world" and as "Nijinsky's successor." Arthur Hammerstein had advertised Swan as "a reincarnated Greek God," and George and Ira Gershwin had celebrated his beauty in their musical Funny Face.
What Warhol didn't know was that Swan had also been called "America's Leonardo," portrait artist of the famous and the infamous, including writer Willa Cather, aviator Charles Lindbergh, British Prime Minister James Ramsay MacDonald, and dictator Benito Mussolini. This book is the first to tell Swan's story, from his days as a world-famous dancer and artist, through his film career—which ran from silent pictures, including De Mille's Ten Commandments (1923), to Warhol's Camp, Paul Swan, and Paul Swan I-IV (1965)—to his portrait painting late in life when Nelson Rockefeller's children, Malachy McCourt, and Pope Paul VI were among his subjects.
With unprecedented access to Swan's scrapbooks, letters, diaries, and an unpublished memoir that tells the story of a bisexual man trying to build a public life in perilous times, Janis and Richard Londraville reconstruct the intriguing life of this uniquely interesting figure, whose story, although widely glossed in the press, was until now never fully known.
About the Author
---
Janis Londraville is a fellow at the Center for Independent Scholars, Associated Colleges of the St. Lawrence Valley, and holds a guest appointment on the English faculty at the State University of New York at Potsdam. Richard Londraville is a professor emeritus of English at the State University of New York at Potsdam. The Londravilles are the authors of "Dear Yeats, Dear Pound, Dear Ford: Jeanne Robert Foster and Her Circle of Friends" and "Too Long a Sacrifice: The Letters of Maud Gonne and John Quinn." Emily W. Leider is a poet, an editor, and the author of "Dark Lover: The Life and Death of Rudolph Valentino" and "Becoming Mae West."
Praise For…
---
"[An] insightful and compassionate biography. . . . The Londravilles don't focus on [Swan's] oddities. Their book succeeds because they concentrate on Swan's considerable artistic achievements, especially his accomplished portraits."—Publishers Weekly

"Here, Janis and Richard Londraville present Swan's full story, carefully tracing his professional accomplishments and contributions and sensitively revealing his complex family life, personal eccentricities, and bisexual lifestyle within the context of his time, place, and culture. The authors' extensive research, access to original documents and materials, and interviews form the basis for this highly literate and engaging book, enhanced by a fine selection of photographs."—Library Journal
-Carol J. Binkowski

"When Andy Warhol filmed interviews with Swan in 1965, he reignited interest in the man, then 82. The Londravilles perform a similar function, as Swan is today largely forgotten. In what some may consider a quintessential portrait of a gay artist in the first half of the 20th century, the authors meticulously trace Swan's life from his early personal and artistic struggles in a culturally parched Midwest to his success and then pathetic demise in New York City. . . . A portrait fascinating in its details and themes."—Kirkus Reviews

"A detailed, complicated portrait that recalls POLLOCK and LUST FOR LIFE. . . . Should have Screen Actors Guild members turning pages with one hand and dialing their agents with the other."—Hollywood Reporter
-Gerald Bartell

"[Swan has] long since fallen off art's historical map, his own work so completely forgotten that he's best known, to those who have heard of him at all, as the star of Warhol's Paul Swan and Camp. Now his obscurity is lifting. . . . More than just than the story of an artist and his dubious oeuvre, The Most Beautiful Man in the World is a depiction of a queer man trying to make it in the 20th century. . . . Whatever the quality of his art, Swan's life will remain valuable to an understanding of gender in the 20th century. His story, as the Londravilles tell it, is an intensely poignant drama of tensions between family and desire." —Creative Loafing-Weekly Planet.com (Tampa Bay)

"If Swan never painted a recognized masterpiece or choreographed a dance to equal those of Jerome Robbins or George Balanchine, the Londravilles'' highly readable biography argues that, however minor, Swan matters."--Jack Helbig, Booklist
-Jack Helbig

"Reading this fascinating biography is like leafing through a crumbling scrapbook, one filled with faded photographs, old dance programs and pressed flowers. It is the incredible story of Paul Swan, a man once described by a journalist as the most beautiful man in the world and, indeed, during the 1920s he was. . . . With unprecedented access to Swan's personal papers, including his letters, diaries and even an unpublished memoir, the authors have documented the story of this highly conflicted bisexual artist and gaycamp idol. It is a story that is intriguing and highly readable."—Larry Cox, Arizona Daily Star and Tucson Citizen
-Larry Cox

"With unprecedented access to Swan''s personal papers, including his letters, diaries and even an unpublished memoir, the authors have documented the story of this highly conflicted bisexual artist and gay camp idol. It is a story that is intriguing and highly readable."—Arizona Daily Star

"When Paul Swan exhibited with Robert Henri, Maurice Prendergast, and Rockwell Kent at the Macbeth Gallery in 1914, he was in an elite company of American painters; and when he won awards at the Paris Salons in the 1930s, he was showing with the best in the Western world. Finally, with this biography, we have the intriguing story of Swan''s art, his life, and his loves."—Aaron H. DeGroft, deputy director and chief curator of the Ringling Museum of Art at the State Art Museum of Florida
-Aaron H. DeGroft

"Andy Warhol''s film Paul Swan is an example of an icon capturing an icon in the world of high (and inside) culture. After decades of speculation about the star of the film, the Londravilles'' book tells Swan''s real story."—Billy Name-Linich, Warhol factory photographer, artist
-Billy Name-Linich

"This remarkable study invites us to discover Paul Swan, a peculiar and fas
-Geralyn Huxley

"Dancer, painter, sculptor, poet, actor, and gay camp idol, Paul Swan was a true original. In their carefully researched biography, the Londravilles nimbly document the rich life and legacy of this long forgotten but extraordinary eccentric whose narcissistic antics—all in the name of art—entranced the likes of Marcel Duchamp, Roberto Matta, and Andy Warhol."—Paul B. Franklin, editor in chief of the journal Étant donné Marcel Duchamp (Paris)
-Paul B. Franklin