The Last Lingua Franca: English Until the Return of Babel (Hardcover)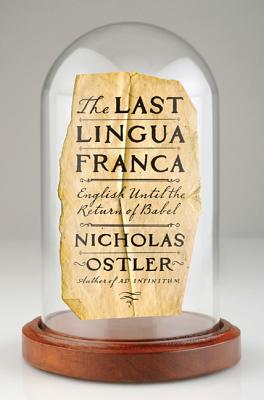 List Price: $28.00
Our Price: $14.00
(Save: $14.00 50%)
On Our Shelves Now. Click on the title to see details.
Description
---
English is the world's lingua franca-the most widely spoken language in human history. And yet, as historian and linguist Nicholas Ostler persuasively argues, English will not only be displaced as the world's language in the not-distant future, it will be the last lingua franca, not replaced by another.
Empire, commerce, and religion have been the primary raisons d'etre for lingua francas--Greek, Latin, Arabic have all held the position--and Ostler explores each through the lens of civilizations spanning the globe and history, from China and India to Russia and Europe. Three trends emerge that suggest the ultimate decline of English and other lingua francas. Movements throughout the world towards equality in society will downgrade the status of elites--and since elites are the prime users of non-native English, the language will gradually retreat to its native-speaking territories. The rising wealth of Brazil, Russia, India, and China will challenge the dominance of native-English-speaking nations--thereby shrinking the international preference for English. Simultaneously, new technologies will allow instant translation among major languages, enhacing the status of mother tongues and lessening the necessity for any future lingua franca.
Ostler predicts a soft landing for English: It will still be widely spoken, if no longer worldwide, sustained by America's continued power on the world stage. But its decline will be both symbolic and significant, evidence of grand shifts in the cultural effects of empire. The Last Lingua Franca is both an insightful examination of the trajectory of our own mother tongue and a fascinating lens through which to view the sweep of history.
About the Author
---
Nicholas Ostler is the author of Empires of the World: A Language History of the World. He is chairman of the Foundation for Endangered Languages, a charity that supports the efforts of small communities worldwide to know and use their languages more. A scholar with a working knowledge of twenty-six languages, Ostler has degrees from Oxford University in Greek, Latin, philosophy, and economics, and a Ph.D. in linguistics from M.I.T., where he studied under Noam Chomsky. He lives in England, in Roman Bath, on the hill where Ambrosius Aurelianus defeated the Saxons for a generation.
Praise For…
---
"A bracing history of lingua francas and their dynamic variation, with a focus on the perfect wave that International English is riding—toward a wipeout…His aim is not pedantic but to pique general readers' code-cracking interest. Ostler does not assume specialist knowledge, but he does assume that his readers share his gargantuan and voluptuary appetite for words, languages and history." —Kirkus Reviews