The Food of Malaysia: 62 Easy-To-Follow and Delicious Recipes from the Crossroads of Asia (Authentic Recipes) (Hardcover)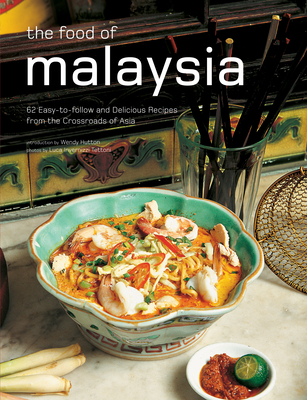 $15.95

If not in stock, we can Special Order from the publisher
Description
---
Create flavorful and visually stunning dishes with this easy-to-follow Malaysian cookbook.
The Food of Malaysia
presents over 62 easy-to-follow recipes with detailed descriptions of Malaysian cooking methods and ingredients, enabling you to reproduce the exotic flavors of Malaysia in your own kitchen. Malaysia's cuisine is an exciting blend of Malay, Chinese, Indian, and European cooking. Drawing on their multiethnic heritage, Malaysians have developed unique variations on Asian favorites like Malay Chicken Satay, Chinese Fried Kway Teow and Indian Chicken Curry Puffs. Added to these are exotic creations like the fiery Portuguese Baked Fish prepared by Malacca's Eurasian community, Kelantanese Nasi Ulam (rice blended with handfuls of freshly chopped herbs) and savory Butter Prawns--a dish that blends seasonings from all of Malaysia's major ethnic groups.
The Food of Malaysia
provides a selection of unforgettable recipes, at the same time introducing the reader to the nation's diverse cultural and culinary traditions.
Delicious Malaysian recipes include:
Mango Chutney
Borneo Fish Ceviche
Zen's Crispy Brown Noodles with Gravy
Fiery Chicken Curry Devil
Southern Indian Mutton Curry
Black Pepper Crab
Pancakes with Sweet Coconut Filling
And many more...
About the Author
---
Wendy Hutton has worked in Southeast Asia as a writer and editor since 1967, specializing in travel and cuisine. She is particularly interested in the cuisines of South and Southeast Asia and has published books on the food of Singapore, Thailand, and Bali including A Cook's Guide To Asian Vegetables, Green Mangoes and Lemon Grass and Handy Pocket Guide to Asian Herbs and Spices. Wendy is happiest when entertaining guests at home on her houseboat in Sabah. Luca Invernizzi Tettoni lived and worked in Asia for four decades. He specialized in books on aspects of Asian art, culture, history and nature, and is well-known for his photography in books like Thai Style, The Tropical House and Decorating with Flowers.