The Folk Performing Arts: Traditional Culture in Contemporary Japan (Suny Series in Contemporary) (Paperback)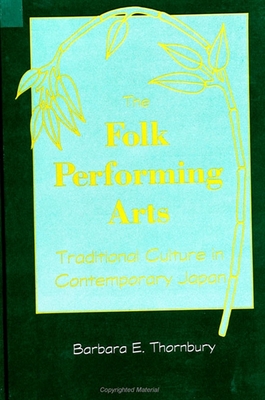 $39.87
If not in stock, we can Special Order from the publisher
Description
---
CHOICE 1997 Outstanding Academic Books

This is the first full-length study in English of Japan's folk performing arts covering such topics as the different categories of presentations, public policies affecting the folk performing arts, performance events within and without communities, and the folk performing arts in literature. Throughout, it addresses issues concerning the survival and preservation of traditional culture in contemporary Japan. Once largely unknown outside of their local community settings, Japan's folk performing arts have today captured universal attention. In Japan, almost every municipality is home to one or more of the diverse dramatic, dance, narrative, and musical presentations that make up the folk performing arts. They can be seen at events that range from long-established festivals to newly created folk-culture and tourist programs. Since the 1920s, a growing body of work by folklorists, theater historians, and other academic specialists, together with literary treatment by well-known authors, brought the folk performing arts into the national cultural spotlight. The postwar Cultural Properties Protection Law conferred on them the status of legally designated cultural assets.
About the Author
---
Barbara E. Thornbury is Associate Professor of Japanese at Temple University.