Pacific Legacy: Image and Memory from World War II in the Pacific (Hardcover)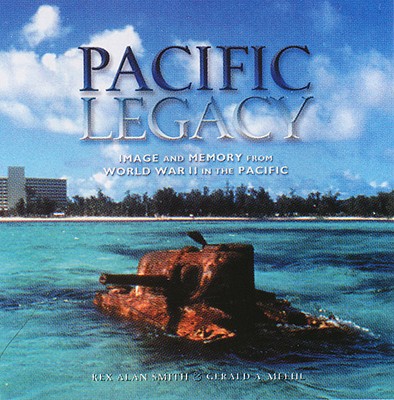 $65.00
If not in stock, we can Special Order from the publisher
Description
---
This fascinating, richly illustrated survey of all aspects of the Pacific war, from Pearl Harbor to Japan's surrender in Tokyo Bay, offers something unique among World War II histories: an extensive color portfolio of dramatic wartime relics that have survived decades on most of the Pacific island battlefields. Rusting American landing craft and tanks still can be found on the treacherous reefs and beaches where they were tragically stopped by enemy fire so long ago; aircraft of both sides lie hidden in the jungles where they crashed; battle-scarred Japanese pillboxes and artillery emplacements still stand sentinel; and packed-coral landing strips remain as good as new.
Such evocative memento mori have been beautifully captured on film by Jerry Meehl, probably the only photographer to have sought out these far-flung battle sites, many of them still dangerous underfoot and now off-limits to travelers. The authors also searched official archives for pictures that show the real terrors of combat and often found images displaying the very tanks and amtracs now decomposing on distant invasion beaches. They also found captured prewar photos of newly built Japanese pillboxes and gun emplacements, which they contrast with images of their current war-torn condition.
But Pacific Legacy is far from just a "then" and "now" picture book. Each of the more than twenty photo essays of particular battles features a lively narrative that relies heavily on the firsthand accounts of men who were there, archival pictures shot during the actual fighting, and color photographs of the remaining Japanese bunkers and gun emplacements, all of which help the reader visualize what hand-to-hand combat in the Pacific war must have been like.