Swish: My Quest to Become the Gayest Person Ever and What Ended Up Happening Instead (Paperback)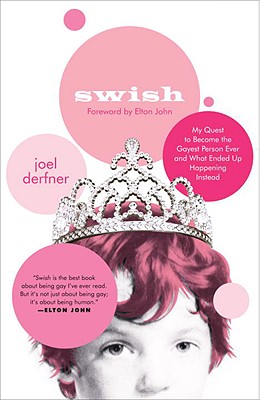 $14.00

If not in stock, we can Special Order from the publisher
Description
---
A hilarious and deeply moving account of one man's journey from stereotype to truth.

Joel Derfner is a knitter, an aerobics instructor, a cheerleader, a go-go dancer, and a musical theater composer, but when he realizes one day that he's a walking gay cliché he embarks on a quest for deeper meaning. A very, very funny quest for deeper meaning. And whether he's confronting the demons of his past at a GLBT summer camp, using the Internet to "meet" men–many, many men–or going undercover to a conference of ex-gays, he discovers that what he's looking for–and sometimes even finds, hidden underneath the surface of everyday life–is his own identity. In the tradition of David Sedaris and Augusten Burroughs, yet with its own particular flair, Swish is a story told with not just wit but humor; not just candor but honesty; and not just compassion but humanity.
About the Author
---
JOEL DERFNER graduated from Harvard with a degree in linguistics. His work for the musical theater has been produced in London, New York, and various cities in between. He lives in New York City.
Praise For…
---
"In a culture where we disguise vulnerability with physical perfection and material success, Derfner skewers heartache with Wildean wit . . . [Derfner is]the next Noël Coward." —Out.com

"Searing." —Washington Blade

"Derfner's writing is perfect. . . . He's your best friend. He's your brother. He is you." — EDGE Los Angeles

"Sometimes hilarious, sometimes poignant, always clever, and unpredictable." —Philadelphia Gay News