Swish: My Quest to Become the Gayest Person Ever (Hardcover)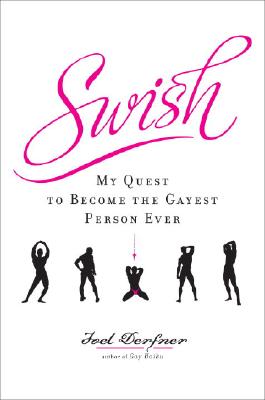 $23.95

If not in stock, we can Special Order from the publisher
Description
---
Joel Derfner is gayer than you.

Don't feel too bad about it, though, because he has made being gayer than you his life's work. At summer day camp, when he was six, Derfner tried to sign up for needlepoint and flower arranging, but the camp counselors wouldn't let him, because, they said, those activities were for girls only. Derfner, just to be contrary, embarked that very day on a solemn and sacred quest: to become the gayest person ever. Along the way he has become a fierce knitter, an even fiercer musical theater composer, and so totally the fiercest step aerobics instructor (just ask him—he'll tell you himself).

In Swish, Derfner takes his readers on a flamboyant adventure along the glitter-strewn road from fabulous to divine. Whether he's confronting the demons of his past at a GLBT summer camp, using the Internet to "meet" men—many, many men—or plunging headfirst (and nearly naked) into the shady world of go-go dancing, he reveals himself with every gayer-than-thou flourish to be not just a stylish explorer but also a fearless one. So fearless, in fact, that when he sneaks into a conference for people who want to cure themselves of their homosexuality, he turns the experience into one of the most fascinating, deeply moving chapters of the book. Derfner, like King Arthur, Christopher Columbus, and Indiana Jones—but with a better haircut and a much deeper commitment to fad diets—is a hero destined for legend.

Written with wicked humor and keen insight, Swish is at once a hilarious look at contemporary ideas about gay culture and a poignant exploration of identity that will speak to all readers—gay, straight, and in between.
About the Author
---
JOEL DERFNER graduated from Harvard with a degree in linguistics. His work for the musical theater has been produced in London, New York, and various cities in between. He lives in New York City.
Praise For…
---
Praise for Swish:

"Joel Derfner writes what we all feel but aren't brave enough to say. SWISH is the best book about gay sexuality I've ever read."
- Elton John

"Reading Swish is like having a marathon phone call with your gay best friend—assuming your friend is hilarious, brilliant, and completely honest. Which he probably isn't, so you should read this book."
—Marc Acito, author of Attack of the Theater People


Praise for Gay Haiku:

"Hysterical."
—Out

"Just the author's foreword in this little pink book is the funniest three pages I've read in ages."
—Advocate

"A world of hilarious juxtapositions, melancholy reflections, and stingingly smart observations."
—In Los Angeles

"Go out and buy five copies; it will never be returned if you lend it to friends."
—HX