How to Become a Straight-A Student: The Unconventional Strategies Real College Students Use to Score High While Studying Less (Paperback)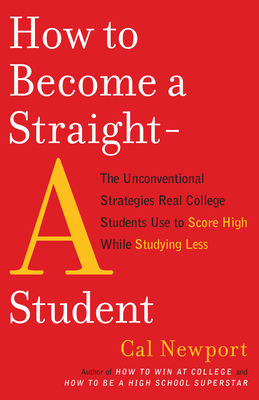 $19.00

NOT on our shelves - Usually Ships in 1-5 Days
Description
---
Looking to jumpstart your GPA?

Most college students believe that straight A's can be achieved only through cramming and painful all-nighters at the library. But Cal Newport knows that real straight-A students don't study harder—they study smarter. A breakthrough approach to acing academic assignments, from quizzes and exams to essays and papers, How to Become a Straight-A Student reveals for the first time the proven study secrets of real straight-A students across the country and weaves them into a simple, practical system that anyone can master.

You will learn how to:

 • Streamline and maximize your study time
 • Conquer procrastination
 • Absorb the material quickly and effectively
 • Know which reading assignments are critical—and which are not
 • Target the paper topics that wow professors
 • Provide A+ answers on exams
 • Write stellar prose without the agony

A strategic blueprint for success that promises more free time, more fun, and top-tier results, How to Become a Straight-A Student is the only study guide written by students for students—with the insider knowledge and real-world methods to help you master the college system and rise to the top of the class.
About the Author
---
Cal Newport graduated from Dartmouth College, earned a Ph.D. from MIT, and is now an associate professor of computer science at Georgetown University. He's the author of five books, including most recently the Wall Street Journal business bestseller Deep Work. He also runs the popular blog Study Hacks, which explores the impact of technology on our ability to perform productive work and lead satisfying lives. His contrarian ideas have been featured on many major media platforms, including the New York Times, Wall Street Journal, Washington Post, Economist and NPR. Visit him online at calnewport.com.
Praise For…
---
"A smart, concise, fun, and above all informative guide on how to ace college by being smarter about how to work . . . This book is a must-have for anyone who wants to do well at college and enjoy it too." —M. Cecilia Gaposchkin, Assistant Dean of Faculty for PreMajor Advising, Dartmouth College
 
 "This book delivers on its title 100 Percent. I wish I'd had a copy when I was in college—I would have had a better GPA and a better social life!" —Jason Ryan Dorsey, author of My Reality Check Bounced!