A Natural History of Dragons: A Memoir by Lady Trent (The Lady Trent Memoirs #1) (Paperback)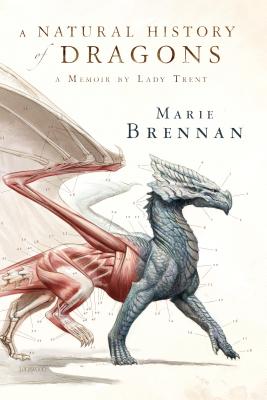 Other Books in Series
This is book number 1 in the The Lady Trent Memoirs series.
Description
---
Marie Brennan begins a thrilling new fantasy series in A Natural History of Dragons, combining adventure with the inquisitive spirit of the Victorian Age.

You, dear reader, continue at your own risk. It is not for the faint of heart—no more so than the study of dragons itself. But such study offers rewards beyond compare: to stand in a dragon's presence, even for the briefest of moments—even at the risk of one's life—is a delight that, once experienced, can never be forgotten. . . .

All the world, from Scirland to the farthest reaches of Eriga, know Isabella, Lady Trent, to be the world's preeminent dragon naturalist. She is the remarkable woman who brought the study of dragons out of the misty shadows of myth and misunderstanding into the clear light of modern science. But before she became the illustrious figure we know today, there was a bookish young woman whose passion for learning, natural history, and, yes, dragons defied the stifling conventions of her day.

Here at last, in her own words, is the true story of a pioneering spirit who risked her reputation, her prospects, and her fragile flesh and bone to satisfy her scientific curiosity; of how she sought true love and happiness despite her lamentable eccentricities; and of her thrilling expedition to the perilous mountains of Vystrana, where she made the first of many historic discoveries that would change the world forever.

"Saturated with the joy and urgency of discovery and scientific curiosity."—Publishers Weekly (starred review) on A Natural History of Dragons

An NPR Best Book of 2013

The Lady Trent Memoirs
1. A Natural History of Dragons
2. The Tropic of Serpents
3. Voyage of the Basilisk
4. In the Labyrinth of Drakes
5. Within the Sanctuary of Wings
About the Author
---
Marie Brennan is a former anthropologist and folklorist who shamelessly pillages her academic fields for inspiration. She recently misapplied her professors' hard work to The Night Parade of 100 Demons and the short novel Driftwood. The first book of her Hugo Award-nominated Victorian adventure series The Memoirs of Lady Trent, A Natural History of Dragons, was a finalist for the World Fantasy Award. Her other works include the Doppelganger duology, the urban fantasy Wilders series, the Onyx Court historical fantasies, the Varekai novellas, and over sixty short stories, as well as the New Worlds series of worldbuilding guides. Together with Alyc Helms as M.A. Carrick, she is the author of the upcoming Rook and Rose epic fantasy trilogy, beginning with The Mask of Mirrors. For more information, visit swantower.com.
Praise For…
---
"Her Ladyship is a determined and canny woman in search of dragons--I wholeheartedly approve!" —Melanie Rawn, bestselling author of Touchstone, on A Natural History of Dragons

"Saturated with the joy and urgency of discovery and scientific curiosity." —Publishers Weekly (starred review)

"If you've ever secretly wished dragons were real, this story is for you. Fans of Naomi Novik and Mary Robinette Kowal will especially enjoy this book." —RT Book Reviews

"Told in the style of a Victorian memoir, courageous, intelligent and determined Isabella's account is colorful, vigorous and absorbing. A sort of Victorian why-what-whodunit embellished by Brennan's singular upgrade of a fantasy bromide and revitalizingly different viewpoint." —Kirkus Reviews

"Lady Trent is the Jane Goodall of dragonkind, and I'm glad she's finally sharing her story with the world." —Jim C. Hines, author of Libriomancer

"A Natural History of Dragons stands somewhere between Naomi Novik and Elizabeth Peters, but rock-solidly in its own world and on its own terms. Highly recommended." —Daniel Fox, author of Dragon in Chains