A Trace of Smoke (Hannah Vogel Novels) (Paperback)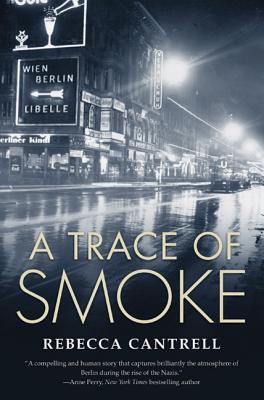 $18.99
Email or call for price.
Other Books in Series
Description
---
Even though hardened crime reporter Hannah Vogel knows all too well how tough it is to survive in 1931 Berlin, she is devastated when she sees a photograph of her brother's body posted in the Hall of the Unnamed Dead. Ernst, a cross-dressing lounge singer at a seedy nightclub, had many secrets, a never-ending list of lovers, and plenty of opportunities to get into trouble.
Hannah delves into the city's dark underbelly to flush out his murderer, but the late night arrival of a five-year-old orphan on her doorstep complicates matters. The endearing Anton claims that Hannah is his mother... and that her dead brother Ernst is his father.
As her investigations into Ernst's murder and Anton's parentage uncover political intrigue and sex scandals in the top ranks of the rising Nazi party, Hannah fears not only for her own life, but for that of a small boy who has come to call her "mother."
About the Author
---
Rebecca Cantrell majored in German, Creative Writing, and History at the Freie Universitaet of Berlin and Carnegie Mellon University. She currently lives in Hawaii with her husband and son. A Trace of Smoke is her first novel.